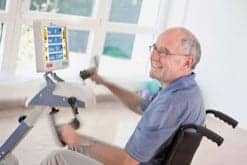 Welch Healthcare and Retirement Group rehabilitation and nursing centers have introduced new therapeutic programs that aim to provide patients with non-surgical, medication-free treatment options to accommodate a wide range of conditions. The program stems from a clinical collaboration between Accelerated Care Plus (ACP) and Bay Path Rehabilitation & Nursing Center in Duxbury; Colonial Rehabilitation & Nursing Center in Weymouth; John Scott House Rehabilitation & Nursing Center in Braintree.
According to a recent news release, the programs rely on clinically proven modalities such as ultrasound, gentle electrical stimulation, or infared light.
Rich M. Welch, president, Welch Healthcare and Retirement Group, emphasizes the key role that the right rehabilitation program and therapy team can play in recovery, adding, "With the addition of ACP, we aim to provide an older population therapies used to successfully treat major athletes."
The ACP Therapeutic Modalities are intended to use advanced medical technology for patients of all ages to manage pain, re-educate muscles, and increase circulation to encourage healing post-injury. The specialized programs include electrotherapy, pulsed shortwave diathermy, and omnicycle strength and endurance program. These specialized program target a number of conditions and symptoms experienced by older adults such as pain, swelling, arthritis, muscle weakness, loss of movement, recent fall or fear of falling, and complications post-stroke.
For more information, visit www.welchrg.com
Photo Credit: Welch Healthcare and Retirement Group
Source: Welch Healthcare and Retirement Group