Using smartphone-enabled technology attached to garments, invented by students from the NYU Tandon School of Engineering, stroke recovery could be more like a game than an arduous task.
The wearable mechatronic devices—including a jacket to measure arm placement, a glove to measure wrist and finger placement and finger joint angles, and a finger trainer built of hand-friendly, compliant material—are all connected by a smartphone.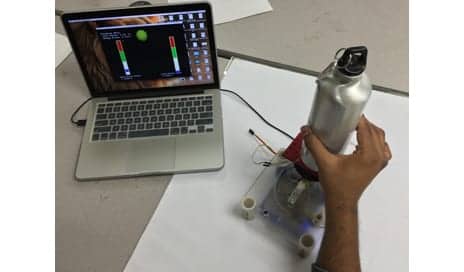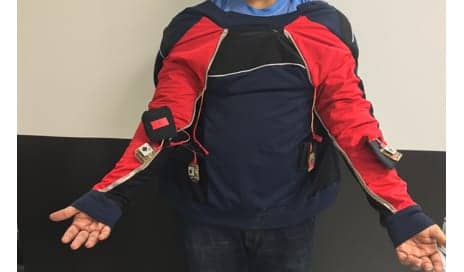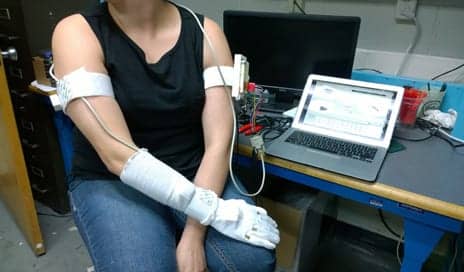 When a patient performs an assigned therapeutic exercise, microcontrollers within the devices measure such information as grip strength and display it via the smartphone to both the patient and the medical provider.
The activity can then turn into a virtual reality game in which the patient observes the performance of the unaffected side of the body and tries to mimic the activity on the affected side of the body, explains a media release from NYU Tandon School of Engineering.
The team that invented the devices includes NYU Tandon Professor of Mechanical and Aerospace Engineering Vikram Kapila, who guided the students; Preeti Raghavan, MD, of NYU Langone's Rusk Rehabilitation Ambulatory Care Center; Ashwin Raj Kumar, a doctoral student in mechanical and aerospace engineering; and Sai Prasanth Krishnamoorthy, a master's degree student in mechatronics and robotics engineering.
The patent-pending devices were recently awarded third place in BMEidea, a competition for biomechanical and bioengineering students, per the release.
"Smartphone-integrated stroke rehabilitation is a marked improvement over the conventional treatment programs of the past," says Kapila, who oversees NYU Tandon's Mechanotronics Lab, in the release.
"The medical community acknowledges that while the central nervous system is highly adaptive and has the ability to regain functions with concerted effort, a patient must assiduously practice those regained skills. This makes stroke rehab a long and sometimes trying ordeal. Providing patients with immediate feedback and placing that feedback in the context of a virtual reality game that they can use within their own homes is definitely encouraging and motivational," he adds.
[Source(s): NYU Tandon School of Engineering, PR Newswire]