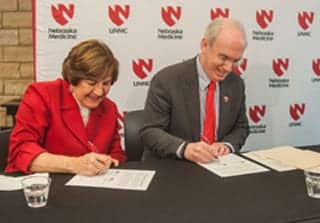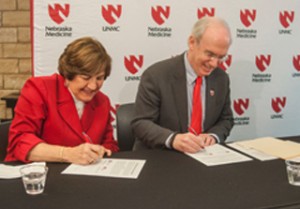 Madonna Rehabilitation Hospital, Lincoln, Neb, will provide physician and academic services at the new Madonna rehabilitation and long-term care hospital currently under construction. The partnership is the upshot of an agreement between The University of Nebraska Medical Center and Nebraska Medicine.
A media release from Madonna recently reported that Madonna's Omaha Campus also will become the primary training site for a new UNMC-supported residency program in Physical Medicine and Rehabilitation (PM&R).
"This is a wonderful opportunity to transform the lives of adults and children seeking rehabilitative care, as well as provide quality academic experiences for our residents, medical students, and other health professionals," said UNMC Chancellor Jeffrey P. Gold, MD. "We're proud to partner with such an exceptional organization."
Omaha is said to be underserved in physical medicine and rehabilitation services. That need reportedly is being addressed through construction of a 110-bed facility with the full continuum of inpatient rehabilitation care that can serve adult and pediatric patients with traumatic brain injuries, spinal cord injuries, stroke and neurological diseases.
"Madonna is honored to begin this new academic and clinical relationship with UNMC and Nebraska Medicine," said Paul Dongilli Jr, PhD, FACHE, Omaha Campus administrator and COO of Madonna. "This partnership will bring together the expertise of two outstanding health care organizations. It will combine clinical medical expertise and academic training to benefit our patients. In addition, it will allow researchers from both institutions to collaborate and develop new research advancing the field of rehabilitation medicine. We are thrilled to move forward with this collaboration for Madonna's Omaha Campus."
[Source: Madonna Rehabilitation Hospital]