The Johnson Rehabilitation Institute, located in Edison, NJ, has 94 inpatient beds and a broad spectrum of outpatient services, located on three campuses within Central New Jersey.
At the JFK Johnson Rehabilitation Institute (JRI), we pride ourselves on providing more than 35 years of comprehensive and innovative care to our varied patient population. From orthopedic rehabilitation to comprehensive rehabilitation for a stroke and severe head injury, the world-class experts at the JFK Johnson Rehabilitation Institute at JFK Medical Center in Edison treat patients with the most sophisticated services available.
As the leading rehabilitation facility in New Jersey, we offer comprehensive, cutting-edge treatment techniques, innovative research, and excellent, personalized medical care. Ninety-four dedicated inpatient beds and a full range of outpatient rehabilitation services allow us to focus on limiting disability and restoring the highest level of function for our patients.
STROKE TREATMENT
Our inpatient stroke program is the foundation of our stroke continuum of care, providing services to more than 5000 patients within the last 10 years. Advanced equipment and experienced staff bolster ongoing success in the areas of functional mobility, dysphasia and aphasia, and cognition, as well as ongoing medical management and education.
Specialized clinic teams in Orthotics and Prosthetics, Spasticity, and Wheelchair Seating and Positioning expand the stroke program's treatment offerings. These teams use sophisticated technology and equipment to enhance clinical outcomes and optimize patients' return home.
CARDIAC DISEASE PROGRAM
With nearly 2,200 cardiac patients treated over a 10-year duration, JRI leads the way in providing comprehensive advanced care to this population. In addition to physical and occupational therapy, daily cardiac rehabilitation exercise, monitored exclusively by cardiac rehabilitation nurses, is also provided.
We provide comprehensive treatment to patients recovering from myocardial infarctions and various types of open heart surgery, patients with LVADs (Left Ventricular Assistive Devices), as well as heart transplants and patients requiring ionotrophic therapy. Our extensively trained nursing and therapy staff are one of the few clinical teams who can provide this level of care in the region.
TRAUMATIC BRAIN INJURY
The Center for Head Injuries brain injury continuum comprises three dedicated programs, including the acute brain trauma unit, subacute unit (Extended Recovery Unit), and outpatient therapy and cognitive program. The program staff is highly specialized and experienced. The CRS-R (Coma Recovery Scale-Revised) was developed at JRI, and is utilized by clinicians worldwide. The Center for Head Injuries was featured in the nationally renowned HBO special "COMA."
Clinical treatment areas, such as Independence Square, which houses many specialty areas, are designed to enhance clinical outcomes and prepare patients and their families for their return home. These specialized features include the activities of daily living apartment, designed as a simulated, fully furnished home setting in which patients can practice the skills necessary to return home.
Both patients and family enjoy this stimulating and functional clinical area. Our "market" environment promotes both physical and cognitive re-learning, as well as aspects of vocational retraining. Stocked with groceries, fruit, magazines, and other items usually found at the market, this area employs a non-traditional therapeutic approach to motor re-learning, cognitive retraining, and functional recovery. Our training car allows patients and their families to practice transfers at different heights, matching the height of the patients' own vehicles. Our golf green provides a priceless therapy experience on two levels—patients can re-learn their physical skills, and have enjoyable fun filled time "on the green" as well.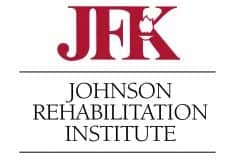 JFK Johnson Rehabilitation Institute
65 James St
Edison, NJ 08818
(732) 321-7733
www.njrehab.org
JRI also provides comprehensive outpatient services. Our main campus includes services for physical therapy, occupational therapy, and speech therapy, as well as audiology. Specialized programs, such as Driver Training, Women's therapy, Hand therapy, and Day Rehabilitation, are also available at this site. Pediatric Rehabilitation, the Prosthetic and Orthotic Laboratory, and Aquatic Therapy are provided in nearby offsite locations. The Vocational Rehabilitation Department, providing services at our main campus and offsite facilities, also has a Career Development Program for high school aged students, which provides them with vocational training in conjunction with their local school districts. JRI is also a joint partner in our homecare division, JFK at Home, providing comprehensive services to residents throughout central New Jersey.
HONORS FOR THE INPATIENT REHABILITATION PROGRAM
The JRI inpatient rehabilitation program has been providing care for patients within the community for over 35 years, and has been CARF (Commission on Accreditation of Rehabilitation Facilities) accredited for 32 years, most recently without any recommendations (less than 3% of facilities surveyed receive this honor). In 2011, we received Stroke Specialty accreditation from CARF as well. The Head Injury Continuum is a TBI Model System.
Written in collaboration with the editors of Rehab Management.