Dedicated to providing compassionate care and improving quality of life.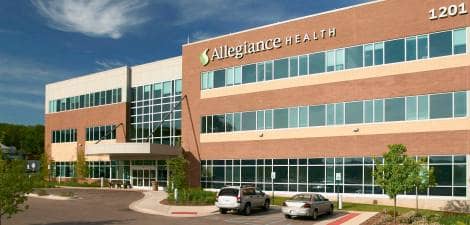 Allegiance Health Physical Rehabilitation offers diverse physical rehabilitation programs in the Jackson, Mich, area, including specialized hand therapy, aquatics, lymphedema therapy, and industrial and pediatric rehabilitation.
State-of-the-art technology, multidisciplinary staff and compassionate care are the combined elements behind the "Best Of" care Allegiance Health provides throughout the Jackson, Mich, area. Whether patients are recovering from illness, surgery or injury, the staff at Allegiance Physical Rehabilitation helps return them to independence through highly diverse physical rehabilitation services. Training provided to staff at all levels throughout our facilities is also a vital part of Allegiance's "Best Of" care. That training is reflected in a team of individuals who are warm and welcoming, and provide a safe, clean atmosphere that encourages healing.
Allegiance strives to provide the best care across multiple convenient locations using a wide variety of treatment options and cost-effective services. Standards behind Allegiance's "Best Of" care include a staff of specially-trained professionals that offers a great range of skills and expertise. Specialists include physical therapists, occupational therapists, speech-language pathologists, certified athletic trainers and therapist assistants. Allegiance ensures all of its health care professionals meet rigorous training and certification standards, and also offers personalized rehabilitation programs that speed patient recovery. Also key to Allegiance care standards are treatment protocols designed in cooperation with referring physicians.
Specialty Programs
An Aquatics (Pool Therapy) program offers physical rehabilitation in a state-of-the-art Swim-Ex aquatic therapy pool under the care of a physical therapist, a physical therapist assistant or an occupational therapist. Specifically designed exercise programs are used to enhance, restore and improve a person's functional abilities. Aquatic therapy is used to treat acute, transient and chronic conditions.
The Allegiance Hand Therapy program is staffed by hand therapists who are occupational therapists that have specialized training and experience in evaluation and treatment of a variety of conditions that affect the hand, wrist, elbow and shoulder. The Indiana Hand Rehabilitation Center protocols are followed, or offered as the physician ordered. Progress is reported to the patient's primary physician at a follow-up visit. The Allegiance Hand Clinic brings state-of-the-art upper extremity rehabilitation to Jackson through two full-time Certified Hand Therapists, with appointments available within 24 hours when needed.
Lymphedema Therapy is offered to treat both upper and lower lymphedema, as well as circulatory issues that can lead to edema problems. The treatment team consists of a physical therapist certified to provide lymphedema treatments, partnered with specially trained physical therapist assistants. The facility's Industrial Rehabilitation program helps injured workers return to their jobs safely and effectively. Services include work conditioning, job site analysis, pre-employment testing and functional capacity evaluations.
Pediatric Rehabilitation is also available at Allegiance, with a staff trained extensively in child development and movement, and equipped to meet a child's physical needs by enhancing and building upon existing gross motor abilities. This includes making successful transitions from one position to another—such as sitting, four-point contact, kneeling and standing—and encouraging safe and efficient mobility such as rolling, crawling, walking, running and jumping.
Allegiance Health
205 N. East Avenue
Jackson, Michigan 49201
(517) 788-4800
AllegianceHealth.org
Our mission: "We lead our community to better health and well-being at every stage of life."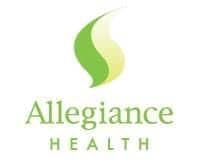 A Speech-Language Therapy program is available that includes voice, speech, swallowing and cognitive-linguistic therapy.
Some of the specialty services Allegiance provides include sports therapy, occupational therapy, stroke rehabilitation, ultraviolet therapy and vestibular rehabilitation. An Osteoporosis and Balance Center has specialized staff to provide comprehensive care and multiple therapy options.
Accreditation
Allegiance Physical Rehabilitation is the only provider in the Jackson, Mich, area fully accredited by the Joint Commission for Accreditation of Healthcare Organizations (JCAHO). This means services meet or exceed all current national standards of care.
Other Rehabilitation Services
Allegiance Health also offers a variety of specialty rehabilitation programs including Cardiac Rehabilitation, to help individuals with heart disease recover faster and return to full and productive lives. Fit Moms is a program that leads moms through prenatal and postpartum exercise programs to support a healthy pregnancy and quick recovery. Pulmonary Rehabilitation is designed to lead patients through 8 weeks to 12 weeks of exercise, counseling and education to help with shortness of breath.