Do you refer patients to an inpatient rehabilitation facility (IRF)? If you do, you may have noticed that more of your referrals that used to be accepted are now being denied. If you manage an IRF, you already know that access to inpatient medical rehabilitation has changed considerably and will continue to change through at least 2008. Denials are on the increase because of two changes from the Medicare program governing the operations of IRFs: the "75% Rule," which governs what types of diagnoses can be accepted by IRFs, and Local Coverage Determinations (LCDs) recently released by Medicare fiscal intermediaries.
The 75% Rule was revised in a final rule published in May 2004 and effective for cost-reporting periods beginning on or after July 1, 2004. And, although the diagnostic categories of patients that fall within the new 75% Rule increased from 10 to 13, the actual numbers of patients that would qualify in these categories under the new definitions decreased because the new categories are very narrow. Currently, IRFs are in a transitional period, which allows facilities to be compliant at 60% through June 2007, 65% beginning July 2007, and returning to 75% in July 2008. The impact varies by facility depending on fiscal year.
Draft LCDs (previously known as Local Medical Review Policies, or LMRPs) affecting IRFs started being debated in 2003. These LCDs require facilities to document a much higher level of medical necessity and are now being released by different fiscal intermediaries across the country. Some of the LCDs are finalized, some are not. The earliest one became effective on January 1, 2005, in Alabama and Georgia. Some reflect knowledge of inpatient rehabilitation, such as Administar; others do not, such as Riverbend's draft.
The LCDs, depending on interpretation, are extremely restrictive. Overall patients that now qualify for inpatient rehabilitation must be more medically acute regardless of their rehabilitation needs or potential. Two medical directors for large Medicare carriers have stated that patients who have suffered a stroke or a spinal cord injury and do not have significant medical complications do not warrant inpatient rehab hospitalization. In other words, inpatient rehab primarily for physical rehab may not be considered compliant.
STATUS OF LOCAL COVERAGE DETERMINATIONS
Fiscal Intermediary
Primary Jurisdiction
Release
Date of
Draft LCD
End Date
of
Comment
Period
Final LCD
Effective Date
Update
Veritus Medicare Services
Pennsylvania
8/20/2003
11/17/2003
 
 
It withdrew the draft LCD
Riverbend
New Jersey, Tennessee
8/29/2003
10/29/2003
 
 
 
Blue Cross and Blue Shield of Alabama
Alabama
9/18/2003
11/3/2003
11/15/2004
1/1/2005
Adopted AdminaStar's LCD with changes
Blue Cross Blue Shield of Georgia
Georgia
10/1/2003
11/15/2003
11/15/2004
1/1/2005
Adopted AdminaStar's LCD with changes
Mutual of Omaha
49 States
10/31/2003
4/15/2004
3/30/2005
5/14/2005
 
Arkansas Medicare Services
Arkansas
11/17/2003
11/17/2003
 
 
It withdrew the draft LCD
AdminaStar Federal
Indiana, Illinois, Kentucky, Ohio
1/19/2004
3/3/2004
5/1/2004
10/1/2005
 
Palmetto GBA
North Carolina
2/1/2004
3/15/2004
 
 
It withdrew the draft LCD
Palmetto GBA
South Carolina
3/19/2004
5/3/2004
 
 
It withdrew the draft LCD
Associated Hospital Service
Massachusetts, Maine
4/22/2004
6/21/2004
 
6/15/2005
 
Anthem Health Plans of New Hampshire, Inc.
New Hampshire, Vermont
4/22/2004
6/21/2004
 
 
 
First Coast Service Option, Inc.
Florida
3/11/2005
06/01/05-
7/18/2005
 
 
Formal comment period has ended; comments now being considered
TriSpan Health Services
Louisiana, Missouri, Mississippi
4/28/2005
6/11/2005
7/1/2005
8/14/2005
While the LCD looks almost like AdminaStar's LCD, the bulletin released subsequently looks like the Riverbend draft LCD and it appears that the FI is enforcing the language of the bulletin in audits.
Trailblazer Health Enterprises, LLC
Colorado, Texas, New Mexico
6/29/2005
6/29/2005-
8/15/2005
 
 
Formal comment period has ended; comments now being considered
Source: AMRPA Magazine February 2006
For additional information, please contact Carolyn C. Zollar at 202-223-1920 or
DISCUSSION WITHIN THE INDUSTRY
There has been much discussion within the industry over why CMS is taking this direction; generally, however, it appears that its effort has been driven by the desire to save dollars. There is also a general CMS impression that some facilities are abusing the payment system, moving patients between inpatient facilities to maximize payment versus the patient's needs. One insurance carrier representative stated he believed that much of the care provided in IRFs can be equally provided in skilled nursing facilities (SNFs).
The problem with this generalization and similar assertions is that no one has accurate data to support such a policy direction, and most clinicians in both the long-term care and inpatient rehab would disagree with this premise. We do know that access to inpatient rehab is decreasing. CMS anticipated some of this drop, but the combined effects of the revised 75% Rule and the LCD will significantly exceed their projections unless the field can convince CMS this is not good policy.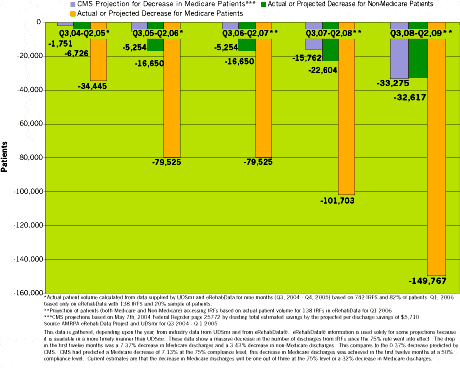 This data is gathered, depending on the year, from industry data from Uniform Data System for Medical Rehabilitation (UDSmr) and from American Medical Rehabilitation Providers Association (AMRPA) inpatient rehabilitation outcomes system information, which is used solely for some projections because it is available in a more timely manner than the UDSmr. These data show a massive decrease in the number of discharges from IRFs since the 75% Rule went into effect. The drop in the first 12 months was a 7.37% decrease in Medicare discharges and a 3.43% decrease in non-Medicare discharges. This compares to the 0.37% decrease predicted by CMS. CMS had predicted a Medicare decrease of 7.13% at the 75% compliance level; this decrease in Medicare discharges was achieved in the first 12 months at a 50% compliance level. Current estimates are that the decrease in Medicare discharges will be one out of three at the 75% level or a 32% decrease in Medicare discharges.
Data on utilization and outcomes is critical if the industry is going to successfully advocate for a payment system that matches resources to the functional needs of the patient and not just the diagnosis. AMRPA started a inpatient rehabilitation outcomes system so that the industry could have more accurate and timelier information and analysis for advocacy and policy purposes, as well as help to improve the management of individual facilities. The system is owned by our industry, and has been effectively used to educate our Federal representatives and payors. AMRPA is taking the lead for site neutral payment systems and is establishing functional outcomes databases, similar to AMRPA's system for both the SNF and LTACH sites of care. These data projects are the rehabilitation industry's best tools for advocating for fair payment systems that protect the needs of our patients into the future.
If your data is not included in AMRPA's inpatient rehabilitation outcomes system, you are encouraged to consider the benefits.
WHAT CAN YOU DO?
There are things you can do to advocate for the services your patients need.
Get involved and stay informed. Join and get involved with the national organizations that represent our field. The AMRPA, the Rehab Section of the American Hospital Association, as well as various state and professional groups can assist your efforts.
Take responsibility to educate your fiscal intermediary about your services and outcomes.
Network with other providers to find out how you can support their efforts or gain their support.
Appeal all denials under the 75% Rule, LCDs, or probe audits. In May 2006, AMRPA developed and released an updated checklist for providers that are preparing to appeal claims denials.
Become politically active. This may be new territory, but your state and federal representatives need to understand the issues. Rehabilitation is a relatively small field, and I have found most representatives are very interested in being educated, especially if they have had family members who needed intense rehabilitation.
Join AMRPA's inpatient rehabilitation outcomes system, eSNFdata, and eLTACHdata. These systems will help your industry as well as help you manage your facility on a day-to-day basis.
Let this be your call to advocacy for the medical rehabilitation field.
Andy Whitener, PT, MBA, LNHA, is a postacute consultant in Atlanta; Carolyn C. Zollar, JD, is vice president of the American Medical Rehabilitation Providers Association, and vice president of Government Relations and Policy Development, Washington, DC; and Sam Flemming is the director of a Washington, DC-based software company.