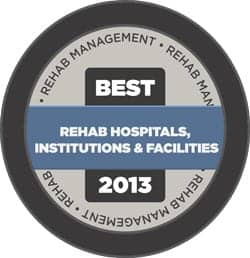 The third annual "Best Of" issue includes 42 of the leading rehabilitation hospitals, institutions and facilities across the nation, spanning a total of 23 states. The "Best of 2013 Rehab Hospitals, Institutions & Facilities" offers readers access to exclusive content which profiles of some of the best health care organizations in the US. To see a full directory of the winners in our Interactive Edition, click here
Rehab Management's Best of 2013 Program panel of judges includes Jill Garcia, MS, OTR/L, ATP, Margot Miller, PT, and John Gallucci, Jr, MS, ATC, PT, DPT,
Garcia, occupational therapist clinical specialist at Kessler Institute for Rehabilitation, West Orange, NJ, specializes in spinal cord injury (SCI) and wheelchair seating and mobility. Garcia has been at Kessler Institute for 10 years and also serves as an adjunct professor at Seton Hall University.
Miller is vice president at WorkWell Systems. She has been involved in occupational health PT for more than 30 years. Miller has authored numerous articles about functional capacity, pre-work screening, and ADA. She is also a media spokesperson for the American Physical Therapy Association (APTA).
Gallucci is the medical coordinator for Major League Soccer and president of JAG Physical Therapy, a multi-location outpatient physical therapy company that provides comprehensive therapy services. He currently serves as a governor-appointed member of the New Jersey Council on Physical Fitness and Sport.
A list of 2013 nominees, nominated by staff, health care professionals, and patients appears below:
Advantage Therapy Centers
Cherry Hill, NJ 08003
856-424-2000
www.adtherapy.com
Allied Services Rehab Hospital
Scranton, PA 18501
570-341-3057
www.allied-services.org
Atlantic Rehabilitation Institute
Morristown, NJ 07960
973-971-4438
www.atlantichealth.org
Bert Fish Center for Rehab and Wellness
New Smyrna Beach, FL 32168
386-424-5181
www.bertfish.com
Central Physical Therapy
Garden City, NY 11710
516-745-1177
www.centralphysicaltherapy.com
CHRISTUS St. Michael Rehabilitation Hospital
Texarkana, TX 07503
903-614-4280
www.christushealth.org
Craig Hospital
Englewood, CO 80113
303-789-8000
www.craighospital.org
Euro-Peds National Center for Intensive Pediatric PT
Pontiac, MI 48341
248-857-6776
www.europeds.org
Franciscan St. Francis Health – Inpatient Rehabilitation Center
Indianapolis, IN 46237
317-528-6963
www.franciscanalliance.org
Gaylord Specialty Healthcare
Wallingford, CT 06492
203-284-2800
www.gaylord.org
Helen Hayes Hospital
West Haverstraw, NY 10993
845-786-4000
www.helenhayeshospital.org
Hospital for Special Care
New Britain, CT 06053
860-223-2761
hfsc.org
Institute of Physical Medicine and Rehabilitation
Peoria, IL 61614
309-692-8110
www.ipmr.com
INTEGRIS Jim Thorpe Rehabilitation
Oklahoma City, OK 73109
405-644-5200
www.integrisok.com
Ivy Rehab
Harrison, NY 10528
914-777-8700
www.ivyrehab.com
JFK Johnson
Rehabilitation Institute
Edison, NJ 08818
732-321-7733
www.njrehab.org
Kennedy Krieger Institute
Baltimore, MD 21205
888-554-2080
www.kennedykrieger.org
Kessler Institute for Rehabilitation
West Orange, NJ 07052
973-243-6879
www.kessler-rehab.com
Magee Rehabilitation Hospital
Philadelphia, PA 19102
215-587-3363
www.mageerehab.org
Mary Lanning Healthcare Acute Rehabilitation Unit
Hastings, NE 68901
402-461-5365
www.marylanning.org
Mercy Rehabilitation Services
Mason City, IA 50401
641-428-5785
www.mercynorthiowa.com/rehabilitation-services
MossRehab
Elkins Park, PA 19027
215-663-6000
www.mossrehab.com
Nemours/A.I. duPont Hospital for Children
Wilmington, DE 19803
302-651-4000
www.nemours.org
Northwest Rehabilitation Associates
Salem, OR 97302
503-371-0779
www.northwestrehab.com
Noyes Memorial Hospital
Dansville, NY 14437
585-335-4239
www.noyes-health.org
Pine Valley Healthcare and Rehabilitation
Richland Center, WI 53581
608-647-2138
www.co.richland.wi.us
Pinecrest Rehabilitation Hospital at Delray Medical Center
Delray Beach, FL 33484
561-495-0400
www.delraymedicalctr.com
Providence Little Co of Mary – San Pedro
San Pedro, CA 90732
310-732-6276
www.california.providence.org/san-pedro/
Reavis Rehab & Wellness Center, Inc.
Round Rock, TX 78664
512-310-7665
http://reavisrehab.com
Rehabcentre at Providence LCMMC San Pedro
San Pedro, CA 90732
310 514-5402
www.california.providence.org/san-pedro
Rehabilitation Hospital of Indiana
Zionsville, IN 46254
317-329-2000
www.rhin.com
Riverview Rehabilitation and Health Care Center
Flandreau, SD 57028
605-997-2481
www.riverrehab.com
Seattle Children's Hospital Rehabilitation Program
Seattle, WA 98105
206-987-0214
www.seattlechildrens.org
Shore Rehabilitation Institute
Brick, NJ 08724
732-836-4505
www.shorerehabilitationinstitute.com
Shriners Hospitals for Children-Chicago
Chicago, IL 60707
773-385-5575
www.shrinershospitalsforchildren.org
Spalding Rehabilitation Hospital
Aurora, CO 80011
303-363-5115
www.spaldingrehab.com
Spine Solutions, Inc.
Santa Fe, NM 87507
505-424-1239
www.s2pt.com
Strowmatt Rehabilitation Services
Houston, TX 77043
713-722-0667
www.driverrehabservices.com
The Children's Center
Bethany, OK 73008
405-789-6711
www.tccokc.org
The Fairview of Fairfield
Southport, CT 06890
203-259-7894
The Rehabilitation Institute of Ohio
Dayton, OH 45419
937-208-4045
www.mvh.org
Vidant Medical Rehabilitation
Greenville, NC 27835
252-847-4448
www.vidanthealth.com
Source: Rehab Management