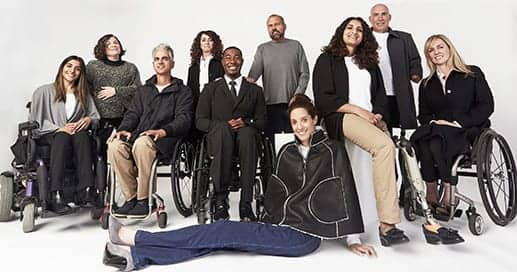 IZ Adaptive, the ready-to-wear apparel brand designed for adults with physical disabilities, announces an all-new collection of accessible clothing styles.
The new IZ Adaptive line features wardrobe basics for people with disabilities, both wheelchair users and those who are ambulatory. The 55-piece collection includes tees, denim, and jackets across men's women's and non-binary categories, featuring design elements such as magnetic closures, pull tabs on zippers and pants, elastic waist bands, and open back tops.
"I'm thrilled to release the new IZ Adaptive collection," says Izzy Camilleri, CEO and Founder of Toronto-based IZ Adaptive, in a media release.
"It has been a labor of love, and we're looking forward to catering to both a new group of customers, who will benefit from our adaptive features, and our original audience, who has been extremely supportive."
"Both Zappos and Macy's are powerhouse leaders in the retail industry," she adds, "and we're elated to have them on board to support our mission to provide accessible fashion to as many people as possible."
Since the company's debut in 2009, Camilleri and her team have worked closely with the disabled community to understand their fit needs. These stories are shared via a video series posted on the company's website. For more information and to submit a video and share your story, visit IZ Adaptive.
[Source(s): IZ Adaptive, PR Newswire]