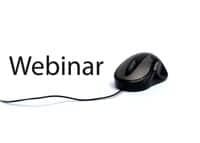 According to a recent news release, National Spinal Cord Injury Association (NSCIA), the membership division of United Spinal Association, is slated to host two free webinars in April targeting disability air travel and effective strategies to address uninsured health expenses following surgery. The first webinar, sponsored by United Spinal's accessible travel program Able to Travel, is scheduled for April 10, 3 pm to 4pm EDT. The "Disability Air Travel & the TSA: What You Need to Know" webinar is intended to offer participants information regarding the preparation for airport screening and the range of programs and services of the Transportation Security Administration (TSA) designed to support air travelers with disabilities. The webinar will also provide tips about security screenings from mobility devices, service animals, respiratory equipment and medicines, the release reports.
The release also notes that the webinar will feature guest speaker Jeremy Buzzell, senior policy advisor, Office of Disability Policy & Outreach/Office of Special Counselor, US Department of Homeland Security – TSA.
The second webinar, titled "Strategies for Addressing Uninsured Health Expenses After Spinal Cord Injury," slated for April 25 at 3 pm to 4 pm EDT, is designed to offer the necessary guidance, resources, and support to raise funds in order to bridge the gap between what health insurance will pay and what is actually needed to heal, live, and thrive following spinal cord injury.
Lynne Samson, executive director of the non-profit Help Hope Live, will serve as a guest speaker for the webinar. Help Hope Live is intended to empower individuals and families to overcome financial barriers related to catastrophic injury (such as traumatic brain injury and spinal cord injury) through grass-roots fundraising.
Source: United Spinal Association