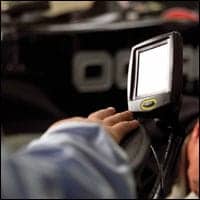 Infrared interfaces offer a variety of styles and features.
Therapists and rehab providers work together to ensure that their clients get the most appropriate power system. The process starts with a thorough evaluation by a knowledgeable and experienced therapist. Beginning April 1, 2008, only RESNA ATP certified therapists will be allowed to assess for power systems funded by Medicare (and, in some states, Medicaid also). Range of motion determines seat angles, and all other parameters are determined. The therapist meets and talks with the client, family, caregivers, and the rehab provider to determine which products might be able to meet the parameters required by the client and desired by the therapist. Here are a few of the new options in power mobility that might be needed to improve a client's independence, comfort, and level of function.
I sat down with two of my favorite rehab providers in San Antonio and asked them, "What's new and exciting in power and power accessories?" Bennie Jones, RTS, recommends a proportional actuator for the tilt option. Typically, when a chair is tilted using the joystick, the tilt happens at one fixed rate. Jones has many clients that complain of tilting while working at their desks, trying to reach the right height, only to overshoot the mark and get pinched or bruised. The proportional tilt enables the user to go faster to the approximate tilt angle they want and then to slow down and get the angle just right.
Gerry Ward, ATS, RTS, complains that the new color-screen drive controls are unreadable outside in the sun, and recommends the black-and-white screens for clients who use their chairs outside.
Both Jones and Ward have been amazed at the new infrared technology. Some new power chairs come standard with specialty controls that are integrated with infrared. In the back of the menu navigation display is a infrared transmitter/receiver blaster chip, which provides the consumer with remote control of external devices within the home, for example, a home theater system. The infrared interfaces with X-10, and this signal also can be converted to RF frequency, allowing use of X-10 technology without line of sight transmission. The towers and modules are available in electronics stores, and the box can be added to most systems for about $500, according to Ward. Simple mouse emulation is another popular application with some of the new electronics.
Next I spoke with Brad Peterson, vice president of sales and education for a Tonawanda, NY-based power-positioning and seating-solutions company. Peterson is a respected "seeker out of all [that is] new and innovative" and lectures on how new products get to market at Medtrade every year. He is excited about all the ways that power-positioning modes are being used. While tilt and recline systems are the norm for power positioning these days, Peterson is constantly asked to augment them or accessorize them. While many people may think these accessories are custom, one-of-a-kind, or unique, Peterson and his colleagues see them as clever ways to increase the function and independence of the clients they are designed for. According to Peterson, he has never had more requests for unique power accessories than in the past few months.
One of the most common goals clients expect of these accessories is to maintain or improve transfer status. With that in mind, Peterson and his colleagues have produced several systems that enable clients to transfer from their power-positioning system to the floor and back. Beyond the traditional kneeling system, they have developed a lifting platform that can be interfaced with any mid-wheel or rear-wheel-drive chair. This system can lift up to 200 pounds from the floor to the seat of the system, then be lowered to support the lower extremities.
Another common request that Peterson gets is to move front rigging to make a standing transfer easier. Telescoping foot platforms and manual or power swing-away front rigging frequently are prescribed. In addition, power flip-foot platforms are used. To enable an easier, safer sliding or side transfer, he frequently has added power flip-back armrests. One new accessory is a weight-bearing, power flip-down transfer arm that can safely support up to 200 pounds, depending on the power base. This is ideal when a gap between the power base and a bed, commode, or chair must be navigated.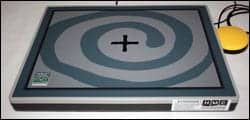 A power-drive interface tablet steering device is like using a computer touch screen to navigate a chair.
Ever since Peterson taught me about lateral tilt, it has been one of my favorite solutions to some unique positioning needs. Lateral tilt can be combined with posterior tilt and/or recline to assist in digestion, respiration, and gastric emptying while also addressing pressure concerns. Many times a client will not use their posterior tilt and/or recline system as they should—as they do not wish to do a full, proper weight shift and look at the ceiling. Combining 15 to 20 degrees of tilt and/or recline with lateral tilt may provide adequate pressure relief without compromising the client's visual field. (It sounds like it is time for a research study.)
There is an informative discussion at RESNA AT Listserv about cool headrests. While searching for information on a power adjustable headrest, I spoke with Jason Hack, a mechanical engineer with a Denver-based seating systems and solutions company. Hack worked with some clients who needed to have their headrests fold away so they can clear the roof of their van while getting in and out to drive. These headrests are power controlled and work from the switch interface. He also is working with power swing-away booms for augmentative communication devices or sip and puff systems. The most custom job he ever worked on was power adjustable armrests. The client leaned on the armrests for postural control, but could not "unlean" or get himself back upright. The armrests actually elevated so the client could lean the other way. Hack says he lives for a good power challenge, so here's your chance to make his day.
Next, I contacted Sharon Pratt, PT, and Jackie Macaulry, PT, educators from a major mobility, home care, and extended care products company, who were both eager to share their favorite changes and upgrades. New and exciting changes in electronics topped everyone's list. Intuitive torque is an inverse speed-torque relationship that is integral and unique to the new electronics. This automatically provides high torque at low speed and low torque at high speed, thereby ensuring good performance and safety at any speed.
With the new electronics, when thermal rollback occurs, the amperage from the controller decreases significantly but driving does not stop. The new chairs have drive features to provide veer correction and ensure the chair tracks correctly, compensating for terrain differences and client driving, especially switch drivers. Some of the new chairs can be driven (very slowly) when the seat is fully elevated.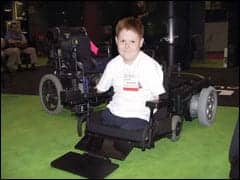 This lifting platform can be interfaced with any mid-wheel or rear-wheel-drive chair.
New joystick programming highlights include the ability to program for switch operation and to increase the area of neutral before activation occurs. The latter feature is useful for end users with dyskinetic (and dystonic) movement, those who drive using proximal shoulder musculature, or those experiencing difficulty controlling turns and stopping. The programming now allows single and double commands instead of hard and soft commands for sip and puff driving. The ability to program an "escape" time instead of hitting a switch to access the menu is another key programming feature. The display menu can be customized to use text or icons, and nine language options are available. It sounds like we may all need to sign up for their all-new online cyber courses (unless you are like me and prefer to work with the educators in person so they can help solve individual clients' needs).
Last year, during a Medtrade party, I stopped to talk with Julianna Arva, MS, ATP, pediatric product specialist with a Lebanon, Tenn-based mobility manufacturer. Arva has spent a lot of time working on a platform paper for RESNA that provides all the research behind standing wheelchairs. The committee Arva led has done a great job to help clients get standing wheelchairs funded. Later, Arva showed me a new power-drive interface. The tablet steering device is like using a computer touch screen to drive the chair. No matter where on the screen the client makes contact, that is where the orientation starts. Clients with dystonia, tremors, and very limited movement can sometimes use this system when all other interfaces have failed.
Some other features of this system are: fully proportional; size of a small laptop; resets to neutral every time you touch (timing can be programmed), so there is no need to target the middle; meant to provide proportional control for people with only gross motor movements and possibly limited targeting skills (ie, high-tone athetoid cerebral palsy); and available with mounting interface to place it flush with tray (as it is spill proof, it becomes a regular part of the tray surface when not driving).
The following variables can be programmed: sensitivity (how hard to hit in order to activate); amplification in different directions (for better response); swapping or mirroring axes, or rotate tablet; tremor dampening; how long to wait to set neutral (ie, eliminate accidental hitting); "hold time" (how long to keep previous neutral); number of active keys (ie, how much surface to touch); possibility to eliminate forearm resting from calculations (ie, even if the forearm is resting on the tablet, the fist will define neutral setting); and standby time.
I am thrilled to see all the creative innovations that professionals in our industry are doing to make sure that clients' needs are met. Keep experimenting, dreaming, designing, and developing new stuff and e-mail me with what you have come up with, so I can share it with others.
Ginny Paleg, MS, PT, is a pediatric physical therapist who practices in Rockville, Md. A reimbursement representative for the pediatric section of the APTA, Paleg teaches continuing education courses, and is a member of  Rehab Management's editorial advisory board. She can be reached at .