While bathing and toileting products may not be the first items the general public thinks of when considering aids to daily living (ADLs), health care professionals in the rehabilitation field know that these tools are often crucial to patient care and independence.
In fact, bathing and toileting products go beyond basic bath safety. Probably two of the most popular products are bath seats and transfer benches. Most of the time the standard product is provided; however, there may be situations when a padded product is more appropriate, such as for frailty, skin breakdown, or even simply a desire for more comfort. Therapists should be aware of and trained in the use of the various product options that are available in the market in order to best serve their patients, and in some instances a caregiver's needs. Such options can include wall-mounted devices or transfer boards, which can often provide greater convenience or comfort.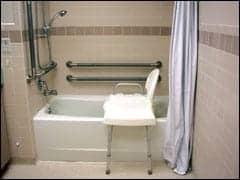 Bath/commode transfer systems eliminate the need for heavy lifting or awkward transfers.
Think of the patient who not only wants to get in the shower, but also would like to actually sit in the bath water. Although expensive, a tub-lift is available that actually lowers and then raises the client into the tub.
A NEED FOR THE BASICS
When patients have the need for the basic products, there are many additional items that can improve their quality of life. These can be categorized as safety and/or convenience products.
Safety products can include:
Grab bars (including new suction-mounted)
Bath rails (many choices available)
Bath mats
Convenience products can include:
Handheld showers
Bed shampoo products
Long-handle scrub sponge
Suction hand and nail brush
The same concept holds for commodes, raised toilet seats, and toilet safety frames. Padded versions of these products also are available. Associated products can include:
Foam toilet seat cushion
Shower commode chair
Skin care products
Bariatric patients often have additional needs and concerns regarding bathing and toileting care. While products for these patients have been lacking in the past, bariatric products are now available for all of these categories.
Other ADLs for bathing and toileting needs include dressing aids, personal care aids, and incontinence products, such as reuseable underpads, wheelchair protective pads, pant and pad systems, and skin care products.
When patients or their caregivers first think of one of the basic products, they are usually not aware of associated products to make their life better. Therapists should be trained to educate those patients or caregivers. A "suggested products" chart is helpful to first suggest products and then to educate patients on their use.
OPTIONS ARE AVAILABLE
While therapists do not need to "push" products on patients, part of rehabilitating them is being knowledgeable about the options that are available and, of course, training them in the proper use of the products. It is a win-win-win situation: The patient wins by having a better quality of life; the therapy facility wins by effectively rehabilitating its patients and thereby potentially gaining referrals; and the therapist wins by knowing that they helped a patient.
Joe Groden is president of JG Consulting, assisting companies in the areas of business development, employee training, customer service, and marketing. He will be present at Medtrade Spring, Las Vegas, on April 26, at 11 am. The topic will be "Employee Training What You Invest Rewards You Every Day." He can be reached at www.jgconsults.com.