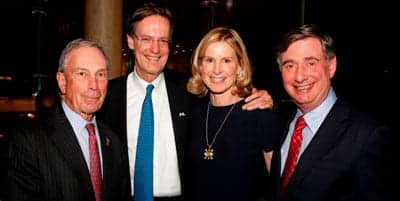 In support of its efforts to provide integrated multidisciplinary care for pediatric and adult patients with cerebral palsy (CP), Columbia University Medical Center (CUMC) has been awarded $7 million by the Weinberg family to establish the Weinberg Family Cerebral Palsy Center at CUMC. CUCM reports that the new center was officially launched earlier this week. The release notes that the events were attended by Mayor Michael Bloomberg (pictured far left)Debby and Peter A. Weinberg (pictured center), and CUMC Dean Lee Goldman.
The Center is intended to coordinate care with specialists at CUMC and its affiliate, New York-Presbyterian Hospital/Columbia for patients of all ages, seeking to smooth the transition for teenagers into adult care, as well as educate and support caregivers and families. The Center also aims to establish a nationwide CP patient registry to provide data to researchers and establish a platform for multidisciplinary longitudinal research.
A CUMC news release notes that are the lead donors for the Center and have supported the effort in recognition of the care their youngest son, who was diagnosed with a rare form of CP at 3 months, received at CUMC. The Center is also intended to extend Columbia's current cerebral palsy research portfolio, expanding to include testing new treatments and understanding the impact of these treatments on patient outcomes and quality of life. A partnership with the Cerebral Palsy International Research Foundation (CPIRF) will also fund a 5-year multifaceted research program focused on the assessment and treatment of pain in adult CP patients, CUMC adds.
Weinberg notes that he and his wife noticed that as their son transitioned from pediatric to adult care, there was an opportunity for adult specialized care to "pick up where the pediatric medicine leaves off. To help address this need, we are proud to be able to come together with our family and friends, to establish the Weinberg Family Cerebral Palsy Center at Columbia. We are committed to helping cerebral palsy patients, from newborns to adults, live to the best of their capabilities," Weinberg says.
David P. Roye, MD, St. Giles Professor of pediatric orthopaedic surgery, director of the new Weinberg Family Cerebral Palsy Center, emphasizes that, "Our goal is for this new Center to become a nationwide model for an integrated research and treatment program to help patients with cerebral palsy—children and adults alike—manage their condition as best as possible."
Photo Credit: UCMC
[Source: Columbia University Medical Center]