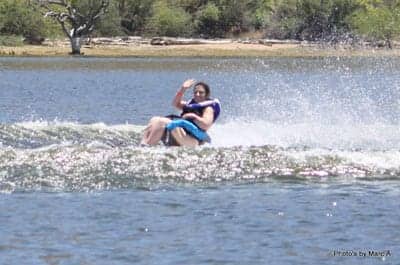 The Barrow Neurological Institute, Phoenix, Ariz, recently hosted its annual Day on the Lake program, designed to allow participants with neurological and physical disabilities to engage in a wide array of water sports. Attendees of the event, held May 9 to 11 at Bartlett Lake, Carefree, Ariz, were provided the opportunity to enjoy activities that included fishing, waterskiing, jet skiing, kayaking, and boat rides in a safe and encouraging environment, according to a news release.
The release notes that for many participants, it was their first time on the water since their impairment. Toni Fontaine, a mother whose daughter sustained a traumatic brain injury (TBI) 5 years ago, emphasizes, "Barrow's event allows us to remember how special even the simplest moments are."
The organization notes that adapted equipment used during the event to accommodate participants' needs, including pontoon boats equipped with lift kits and specialized sit skis for waterskiing. Jo Crawford, program coordinator, Barrow Connection at St. Joseph's Hospital and Medical Center in Phoenix, states that the, "event's mission is to remind people with disabilities that they can do anything anyone else can and to give them the opportunity to experience that."
The release reports that the event attracts participants nationwide whose age ranges include 5 years to 82 years old. Barrow at St. Joseph's also emphasizes that it believes everyone has the right to live an active and productive life, adding that it is dedicated to helping provide post-injury patients with access to recreation.
Photo Credit: Marc A
Source: Barrow Neurological Institute