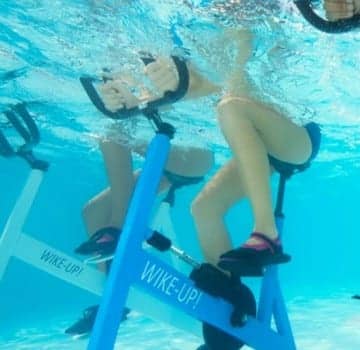 Aquaness by Wike-Up! Aquabikes water exercise bikes are designed to combine the cardiovascular assets of traditional spinning with the low-impact advantage of the water, to provide individuals of all ages with a low-impact, high-intensity water workout.
Two types of Aquabikes are available: Fitness, for those who want to stay fit or are beginning an exercise routine, and Performance, for very serious and professional athletes, according to North Miami, Fla-based Wike-Up! Inc, the official distributor of the Aquaness aquabike, made in France for the US market.
The Fitness model weighs 18 pounds and features an aluminum frame that is light and strong. Its resistance level can be adjusted with the position of the blades. The Fitness Plus model features an adjustable saddle, bike height and length, and handlebar height. The Fitness Plus model also features neoprene pedals.
The Performance model is designed with an aluminum frame that weights 26 pounds. It features adjustable resistance with a regulated pedaling system. The Performance Plus model enables adjustment of the position and height of it saddle, and the height of its handlebar and feet.
For more information, visit Wike-Up! Inc.
[Source(s): Wike-Up!, PRWeb]