Compiled by Brittan West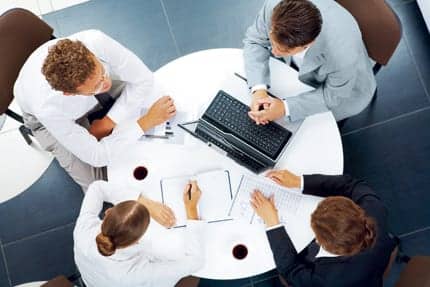 Rehab Management recently hosted a roundtable panel, featuring key players in the business software arena. Topics discussed by these industry insiders exclusively with Rehab Management included cloud computing, the options available to the mobile therapist, and maximizing revenue and investment return.
Taking part in the discussion were: Nelson Aviles, PT, TherAssist Software; Andrea Cassese, director of PTOS Software; Becky Forbes, senior sales executive, Zyantus; Joe Godges, DPT, coordinator of clinical education for OptimisCorp; Ricky Gomez, director of sales and marketing, Planetrehab; Steve Gottfried, vice president of sales, SourceMedical; Steve Mackie, CEO of OptimaHCS; Dan Morrill, PT, MPT, president of Hands On Technology; Amy Orr, vice president of sales for ClinicSource Therapy Practice Management Software; Jim Plymale, CEO of Clinicient; Steve Presement, president, Practice Perfect EMR + Management Software; Michael Stevenson, MBA, PT, director, product management for MediServe; Gerry Stone, PT, MEd, president and founder of The Rehab Documentation Company (ReDoc); and John Wallace, PT, OCS, CEO of BMS Practice Solutions.
Rehab Management (RM): Based on customer feedback, what is the most important feature that business software provides users?
Nelson Aviles: Depending on whom you ask within the practice, the answer can vary, but the common thread is always the effectiveness of linking documentation to billing. For the therapist and support staff, software's purpose is to make it as easy as possible and get it right the first time.
Andrea Cassese: Integration of all functions—billing, scheduling, documentation—so that data can be input once and accessed via different applications. This improves overall efficiency. Reporting—being able to quickly understand and analyze how the business is doing. Electronic claims and remittance advices—saves time, improves efficiency.
Becky Forbes: There are two that work hand-in-hand: a simple, user-friendly interface backed with outstanding customer support. Time wasted on complex systems and inept customer support greatly impedes the ability of providers to treat patients, the reason they are in business in the first place.
Joe Godges: As a point of care documentation solution, our users benefit from enhanced efficiency, which leads to greater productivity. Therapists can go home on time and sleep well at night knowing that their documentation is at the highest level of compliance.
Ricky Gomez: Although customers phrase it in different ways, the concept they most often are trying to convey is that they need to be more productive. For example, spending more time on patient care and less time on paperwork. Many therapists have experienced software that caused them to use more time than if they had done everything on paper. Those therapists are skeptical and sometimes hostile to embracing the right software for their company. But because the entire medical industry is changing, owners realize they must embrace technology rather than avoid it.
Steve Gottfried: It is all based on improved workflow, which translates to efficiency and accuracy. In a paper-based model, the workflow in a clinical practice can be disjointed with room for a significant number of errors. By eliminating the occurrence of these errors, therapists can document at point of care and capture the appropriate data that can be used to produce a claim that will be paid the first time it's sent.
Steve Mackie: Above all, our customers want software that is easy to use. If they are able to navigate the system easily, they can focus on caring for the patient while quickly completing necessary documentation. The second most important feature is that the software is capable of running on multiple platforms.
Dan Morrill: The feedback we receive is directly related to the changes we currently are seeing in health care. Increased cost of providing care with decreasing reimbursement has forced medical providers including PTs to look at every facet of practice. Efficient and concise documentation along with revenue cycle management with features such as chart audits, benefit verification, alerts, and reminders are all the features we feel our customers use to improve their business.
Amy Orr: The most important feature depends on the needs and the specifics of the clinic. One of these needs is to increase productivity via a reduction in paperwork and higher level of organization. This is accomplished via utilizing an EMR's therapy report templates, integrated scheduling and billing, and the presence of all patient records in one secure, easily accessible system. Another is to assist in regulatory compliance.
Jim Plymale: The most important feature is integrated business insight to manage performance and compliance. I would break this into seven areas: financial and operating results, referral management, attendance management, therapist productivity, payor compliance, billing and collections productivity, and outcomes.
Steve Presement: Users want robust billing software that catches errors in advance, easy scheduling to help maximize clinical time, and excellent management reporting to help identify troubling trends from referral sources, productivity, cancellation rates, revenue per therapist, and patient compliance issues.
Michael Stevenson: In a word, "efficiency." Documentation is completed in less time, without worries that it is payor-compliant. It's no longer a manual process to ensure that every scheduled patient is seen or rescheduled, every visit is documented and signed, and every treatment billed. If a patient is reassigned from one therapist to another, the notes appear in a standard format that facilitates the hand-off.
Gerry Stone: One of our product's most important features is its ability to interface with all major hospital information systems, and provide alerts and required fields to maximize compliance and eliminate billing errors.
John Wallace: Real-time, meaningful information to make the best patient care and business decisions.
RM:

How might the importance of these features vary from setting to setting (acute care, rehab facility, private practice, hospital, skilled nursing facility [SNF], other)?
Aviles: Within private practice, getting the most out of the visit, for both patient and practice, is paramount. Good software can make a difference in marketing, referrals, patient care, and certainly bottom line. Larger settings, SNFs and hospitals, may not be as dependant on one sole software as being representative of their practice.
Cassese: I think the issue of integration is important regardless of facility type.
Forbes: There should really be no difference. The user interface should remain simple no matter the environment. Software that gets too complex always amplifies support issues.
Godges: These features are important across all practice settings.
Gomez: The location should not matter if the software is enhancing productivity.
Gottfried: The business logic in the software will vary primarily due to the payor types the facility supports. Different settings have their own unique requirements related to coding, electronic claim formats, and clinical documentation. Software not designed to support each of these setting types will have difficulty providing the value required.
Mackie: Care providers need to evaluate the ability of software to meet the requirements unique to the setting. However, ease of use and a platform independent road map are important features to have in any care setting.
Morrill: No matter what the setting, core requirements remain the same. Efficient and effective documentation that supports the need for skilled services, claim management features that can generate error-free claims, and features that will help effective revenue cycle management.
Orr: All of the above features are important across all settings.
Plymale: I think this need is universal, as business performance and compliance are the key aspects to managing in any setting. The stakes are highest in outpatient rehabilitation, as they have more requirements around referral management and patient attendance, and are typically paid less per visit.
Stevenson: Medicare's conditions of participation impact each level of care differently. OP has complex authorizations, CCI edits, and "8-minute" rules. SNFs have the MDS and RUGS management. IRFs have stringent admission requirements, the 3-hour rule, and the burden of demonstrating collaboration. Home Health has the OASIS. With the recent addition of RAC audits, the days of "sneaking by" are gone.
Stone: Reimbursement structure and documentation requirements are different in different rehab settings. However, medical necessity and compliance conveyed in documentation to support billing are universal.
Wallace: I don't think setting makes a difference. Settings may affect one's perspective on compliance issues, but compliance should be built into the system.
RM: What specific business areas should therapists evaluate when deciding on what software will help the most in managing their practice?
Aviles: Therapists should look first at documentation. If there isn't a good fit on the clinic floor first, it can logjam billing, or create an environment of subpar performance or compliance. The treatment note substantiates the need for services and markets the practice.
Cassese: In addition to evaluating specific software features, the company that provides the software should be evaluated. Key questions to ask include: Will the company will be around long term? Does the company have dedicated development resources to ensure the software is continuously updated and can grow/scale? What type of support and training is available?
Forbes: One is to choose software that will support your current business processes or can be easily customized to do so. Another is to streamline appointment scheduling, eligibility checking, charge capture, and payment posting. And finally, the ability to share information with primary care and acute care facilities.
Godges: Utilizing software that promotes the consistent delivery of high-quality care through the use of best evidence-based treatment protocols while facilitating third-party payor compliance is paramount.
Gomez: Again, ask whether the software makes you more or less productive. Think about where time is better spent: with patients or at a computer screen? Cultivating relationships with doctors or deciphering EOBs? Creating marketing strategies to attract more patients or calling insurance companies to track a claim?
Gottfried: The quality, accuracy, and consistency of clinical documentation therapists create are the largest drivers of the clinic's success. The note quality represents several areas: image of the practice to the referring physician, compliance with payor types (eg, Medicare), ability to accurately capture billable charges.
Mackie: In deciding on software specific to their practice, therapists should consider in order of importance: ease of use; platform independent; scalable; customizable; compliant; multi-market capabilities.
Morrill: On the business operation side, revenue cycle management and overall clinic financial health are most important. Busy practice owners need organized data to make decisions. On the clinical side, therapy specific software can raise the level of care by looking at outcomes, treatment efficacies, and customer satisfaction.
Orr: Managing a practice involves many workflows and business areas. Intake, scheduling, billing, records management, accounts receivable, etc. Therapists may want to consider which of these areas consume the most resources (time and money). Typically, you would want a product that will address all of these areas in one integrated solution rather than using two disparate systems that may or may not be interoperable.
Plymale: Focus on integration of information, policy management, and exception management. Integration requires tying the clinical and business information together for decision support at the appropriate time in the patient life cycle. Policy management allows one to decide what constitutes an exception—something that requires action. And exception management requires an ability to highlight potential issues and drive action by the appropriate person.
Presement: The role of good practice management software should have one, overriding purpose: fill the calendar. Regardless of how it's accomplished, business software should provide management with the tricks and tools necessary to maximize revenue from every client and every referral source.
Stevenson: We take every client through a 4-step "CORE" review: Compliance, Outcomes, Revenue, Efficiency. Regardless of setting, these four performance areas are essential to success. Often, one of these components will be the key pain point that motivates a purchase decision. Keep in mind that situations change over time—so make sure software addresses all four aspects of CORE, not just the one that causes the most pain today.
Stone: There is no greater business concern than providing legible documentation for services rendered that is in compliance with Medicare regulations and conveys medical necessity. Preventing "under" or "over" billing by systematic alerts and various methods of reconciliation is also high on the list. Insight into key productivity and referral metrics through a built-in business intelligence component is essential in today's environment.
Wallace: The single most important thing therapists need to consider when evaluating software is how a particular application suite will affect workflow in the front office and in patient care. With any system/application switch, there will be changes in workflow required to optimize bringing the applications into the clinical and business environment.
RM: What are the biggest mistakes that should be avoided when choosing the right business software solutions?
Aviles: Shortsightedness. You may be looking only for scheduling now, but what about when your practice and the environment change? Can the software grow and adapt? Looking for something to solve a current problem that can't tackle future issues likely forces you to spend more time and money later.
Cassese: One of the biggest mistakes is looking short term versus long term and making a decision based on price alone. The software you purchase is going to help run your business—do you really just want the cheapest system? Be sure there is a good fit. Be sure your provider will be there to provide support and development over the long term.
Forbes: Don't choose a software solution without a clearly defined fee structure, or one for which you don't understand the service level agreements for support. Also, don't rely on colleague input unless you understand the differences between the needs of your business and theirs.
Godges: Evaluate a solution based on the specific needs of a practice, and not simply on price. The software should facilitate the delivery of high quality of care, improve outcomes, and drive total revenue capture.
Gomez: Software that will not grow with the practice. A practice's growth should not be stifled by software and it should not have to jump through numerous hoops to expand.
Gottfried: Selecting a software vendor is a decision that should be viewed as a long-term commitment. I'd recommend that time is spent doing a thorough evaluation of the company: is it financially stable, what is the organizational structure, how do they handle customer service requests for support and deliver training?
Mackie: The biggest mistake users make in shopping for software is making price the largest and/or only consideration. While you want to negotiate the best price for your company, you must remember that price should not be the only purchasing criterion. You want to partner with a vendor that is financially strong and has the ability to support your therapists well into the future.
Morrill: Evaluate software on value, understand the product offering and how it relates to the overall scope of your business. It is important to understand true needs and whether the software can complement great work process or improve processes that are less than ideal.
Orr: Take a look at your clinic's business model and specific workflow. Then find a system that fits the best to your individual needs. The biggest mistake we see is when a therapy practice purchases a system designed, say, specifically for a physician outpatient center, where the workflow for the system does not match that of the practice.
Plymale: The biggest mistake I've seen is going with a system that only gives you a partial picture of your business. If you can't tie the work of the front desk, therapist, and billing and collections into an integrated workflow, you can't measure and manage your business. Beware of point solutions and beware of "general medical" solutions.
Presement: First, all stakeholders should be involved in the decision. Owners, office managers, and therapists all need to use the software. Second, don't piecemeal the solution—EMR from vendor "A," billing from vendor "B"—the user will eventually get stuck in the middle of a finger pointing battle if things go awry. Lastly, make sure that should you ever terminate your agreement with a vendor, you have access to both your data and the software to view it—data handed to you on a disk will not do you any good whatsoever.
Stevenson: Hospitals that force rehab into relying on an HIS are setting themselves up for failure. A large HIS vendor will not be agile enough to handle rapid changes in the health care environment; nor can your IT department upgrade the entire HIS every time rehab has a regulatory change. Having an agile, rehab-specific vendor who completely integrates with the HIS gives you the best of both worlds.
Stone: A big mistake in finding the right software is choosing a vendor that does not provide adequate training or support for its products. It's important to find a software company that uses experienced therapists as trainers and stays current with all of the rapidly changing rules and regulations in the rehab industry.
Wallace: Not visiting another practice that is using the product or applications you are considering and understanding how the onboarding process went for them. And not being thoughtful about and underestimating the workflow changes (mentioned above) that may be required.
Read Part Two of this roundtable.