Compiled by Brittan West
In this continuation of Rehab Management's November/December 2012 roundtable on business software, industry insiders discussed topics including cloud computing, the options available to the mobile therapist, and maximizing revenue and investment return.
Taking part in the discussion were Nelson Aviles, PT, TherAssist Software; Andrea Cassese, director of PTOS Software; Becky Forbes, senior sales executive, Zyantus; Joe Godges, DPT, coordinator of clinical education for OptimisCorp; Ricky Gomez, director of sales and marketing, Planetrehab; Steve Gottfried, vice president of sales, SourceMedical; Steve Mackie, CEO of OptimaHCS; Dan Morrill, PT, MPT, president of Hands On Technology; Amy Orr, vice president of sales for ClinicSource Therapy Practice Management Software; Jim Plymale, CEO of Clinicient; Steve Presement, president, Practice Perfect EMR + Management Software; Michael Stevenson, MBA, PT, director, product management for MediServe; Gerry Stone, PT, MEd, president and founder of The Rehab Documentation Company (ReDoc); and John Wallace, PT, OCS, CEO of BMS Practice Solutions.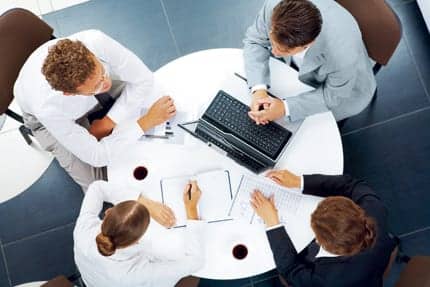 RM: How easily can the system be updated as the practice changes and expands?
Aviles: TherAssist users can easily and immediately make changes to their database. ASP clients receive automatic updates, LAN clients get updates electronically added to their servers.
Cassese: I can only answer for our system. It is very easy to add users and make changes. Some things can be changed by the user/administrator; other changes can be made with a quick call to our support team.
Forbes: With a cloud-based system, updates to the system as a practice changes are much easier as they are done incrementally instead of in a single update, or a series of large, disruptive updates.
Godges: OptimisPT prides itself on working with our users to create new practice patterns and functionality. These additions are implemented without disruption to the practice and easily integrated into OptimisPT, which is a Web-based system.
Gomez: With Planetrehab, it is simply a matter of adding another location to the database if they are using the Web version or adding another server if they are using the installed version.
Gottfried: Part of our training curriculum is how to modify the software to accommodate new changes to the practice along with expansion. We also provide regulatory updates automatically to support industry changes and trends. It's worth noting that the software offers many flexible setup options along with scaling for growth.
Mackie: If the system you purchase employs a software as a service (SAAS) model, system changes will be easier and are typically built into the pricing model, which means you will not be charged for upgrades.
Morrill: TheraOffice is built on an infrastructure that can be changed to accommodate rapid changes within health care. This can be accomplished on our on-site and cloud versions of our software. Recently, we were able to adjust our software to help guide practices with the new Medicare cap. We were able to plan, develop, and implement in less than 2 weeks.
Orr: Choose a vendor and system that has the scalability to grow as you grow. Look for a proven track record in this area. Ask how big their largest client is. ClinicSource was built from the ground up for scalability. Our product is flexible enough to support from the solo provider to multi-location practices with hundreds of therapists.
Plymale: This depends on whether the policies and workflows are focused on the rehab setting and if they are customizable. Look at the recent Medicare changes for Manual Medical Review. A general billing solution won't anticipate these changes. You need a system that has rehab-specific rules and policy management.
Presement: Make sure whatever software you purchase is scalable—and can handle everything from the sole practitioner to a large, multi-location practice. Examine all the reporting—is it relevant for both large and small offices? Is the return on investment evident for both large and small offices? Do updates cost extra or are they included? You don't want to end up forced to make a change because something in the industry has changed.
Stevenson: Best of breed solutions can be adapted much more quickly to meet regulatory changes. A well-designed Web solution is easily scalable and can be updated continuously on the vendor side, so you never have to do a thing.
Stone: ReDoc can be upgraded or modified to meet the needs of the client in a matter of minutes, depending, of course, on the extent of what the client wants to do.
RM: What kinds of options in business software are available for a user whose practice may be mobile?
Aviles: Our online clients can access their accounts via iPad, iPhone, and Android, or any Pocket PC. The same can be true for LAN clients depending on their system architecture. For both scenarios, a connection to a terminal server is required.
Cassese: Most software today can be accessed on mobile devices and the sophistication and availability of apps will continue to grow.
Forbes: A cloud-based system can be accessed through any mobile, Internet-enabled device such as laptops, cell phones, and tablets. Additionally, the use of native iOS or Android apps accessed over the Internet is ideal for a mobile practice.
Godges: To use our software, all you need is access to the Internet. Whether on a playing field, in a patient's home or in the clinic, most of our customers use our product with an iPad, tablet, or laptop.
Gomez: Mobility has been and will continue to be difficult for truly the mobile therapist (ie, a home health therapist). The reason being that most Web-based software requires an Internet connection and the mobile therapist may not always have access to a reliable Internet connection. Practice owners should expect to be able to use their software whether they are in an office setting, a setting where Internet access is readily available, and a setting where they don't have an Internet connection.
Gottfried: There are several options available to the mobile user. Internet access is readily available through a 3G or 4G data plan network in most markets if you cannot locate a hotspot with Internet access. Our software supports access from any Web browser so it's a simple matter of gaining a connection to the Internet. We also offer a solution that can be used in an "offline" mode so schedules and notes can be checked in and out.
Mackie: In purchasing software for a mobile practice, the most important features to look for are platform independence and offline capability (ability to complete necessary requirements whether connected or disconnected from the Internet). If these features are present, mobile users will have the ability to run their practice while treating the patient.
Morrill: We are seeing a renaissance in mobile technology. iPads, Android devices, and the new Windows 8 devices (including Microsoft Surface) are set to change the technology we use at work and in our homes. The key will be to match the device to the tasks. Accounting would be difficult on a 7-inch screen; however, a daily intervention note during a home health visit would be perfect on a small Internet-connected touch device.
Orr: The trend in patient-centered care is headed the way of the tablet. Real-time or near real-time documentation of patient interaction is becoming the norm. Be sure the system supports mobile devices such as iPads and Android tablets. Browser-based systems hosted in the cloud provide the optimum secure accessibility for mobile users on these devices.
Plymale: There are two areas to focus on from a mobility standpoint: point of care and remote access. In both cases, you want a Web-based solution. In the case of point of care, you also need to think about how your therapists will connect to the Internet and what type of device (laptop, tablet, mobile phone) is appropriate for the work they will do.
Presement: As the world moves into portability, more and more software is available that either is cloud-based or runs over the Internet. Any software that does not allow complete accessibility in the field is outdated. But it is tricky for smaller devices such as smartphones to be an adequate medium for completion of clinical notes or advanced data entry, simply because their screens are too small. Portable does not always mean practical. For example, on-screen keyboards tend to take up too much room on devices such as iPads. Laptops are still worth considering for those on the go.
Stevenson: Once you invest in a Web-based technology, the sky's the limit. There are apps that let you see your schedule and manage patient data on your smartphone. A mobile therapist can map a patient's home and get directions. Managers can use these apps to track productivity and enhance communication with practitioners who may rarely visit the home office. We also use mobile technology to make the IRF admissions process efficient by texting physicians when a patient is ready for admission. They can review, update, and sign the chart all from their smartphone.
Stone: The options are unlimited with the Web-enabled version of ReDoc. Access from anywhere is now a common option.
Wallace: Mobile operators need true Web-based applications as opposed to Citrix-hosted applications. Also, operators need to ask the vendor directly if their applications have mobile versions or if they simply run on the Web browser on the mobile device.
RM: What are two ways users can get the biggest return on their investments?
Aviles: The easiest one to identify is improved efficiency in billing. Getting more billing done in 1 year versus the previous year creates positive ROI. The same is true for scheduling; identifying non-returning patients and scheduling effectively and rapidly for patients will create more visits and revenue.
Cassese: The biggest improvements in efficiency will be realized with a fully integrated system (billing, documentation, scheduling). Then, additional features like electronic claims and remittance advices, integrated credit card processing, etc can add to the time saved. Furthermore, gaining a better understanding of the practice through improved reporting can help improve cash flow as well as marketing efforts.
Forbes: One is the ability to easily accept referrals by way of exchange of information from primary care or acute care providers. Another is proper capture of all charges and proper documentation to support them during an audit. Thorough training is also important. Undertrained staff equals underutilized systems.
Godges: Our product allows for increased efficiency, greater productivity and total revenue capture through point of care documentation, dynamic clinical decision support, and the use of practice management retention tools. (Medicare POC tracking and therapy CAP tracking, authorization alerts, and missing visit reports.)
Gomez: The first is whether the clinic is able to see more patients in a given time. If their software frees up more time, that translates to better patient care and the ability to treat more patients. The second is if the therapy company is seeing faster and increased payment from insurance companies. Good software and guidance should directly translate to faster and better reimbursement.
Gottfried: First, most users do not deploy all functionality in a software program—so the first key is to establish a good relationship with your project manager to review a checklist of application settings and options. Second, be sure to take advantage of training! Your investment will pay off with educated users. Also, our research suggests that on-site training results in the highest user satisfaction scores and decreases calls to a support desk, so review the options on training whether it's on-site or Web-based or a blend.
Mackie: A large return on investment can be accomplished by operationalizing the software and supporting the software. To operationalize the software, consider the following questions in relation to your business model: What is your reasoning for purchasing software? Evaluate those reasons and publish a list to discuss with your staff. Will you use different measurements for your business with your new software? If so, be sure to communicate those measurements to your staff clearly and repeatedly. What changes will your staff be required to make to use the new software and/or hardware you are purchasing? Make your staff aware of any changes and equip them appropriately.
Morrill: Understanding the overall impact of the software on the clinical and financial aspects of their business while dedicating time to learning the features and improving workflow processes at your facility.
Orr: Increased productivity and accurate accounting/billing. Look for a software product that will save provider's time, allowing them to focus more on providing quality services while also electronically processing claims and increasing cash flow efficiency.
Plymale: Choosing a system and a partner that can grow with you as your business grows. Your biggest investment is not the software: it's change management and the impact on productivity. Beware of inexperienced partners or systems that aren't flexible.
Presement: Managing client attendance compliance and enhancing the communication with the referral sources.
Stevenson: Simply this: minimize the investment and maximize the return. You do the first with a system delivered over the Web on a subscription basis, which leads to a minimal up-front cost. You accomplish the second through training and support. Most software users can access only a small fraction of what their software can do. So the practice never realizes a full return on investment.
Stone: The ROI is quickly achieved with increasing revenue by monitoring average of units per visit and visits per referral, eliminating underbilling and reducing administrative man hours. The second money saving benefit is mitigating denials, appeals, audits, and payback to Medicare.
Wallace: Plan for and dedicate adequate training time and don't make adoption optional for your personnel.
RM: What is the difference between integration and synergy, and which has a bigger role in business software?
Aviles: Synergy is the ability of softwares to interact and create an enhanced combined effect, ie, HL-7 interface to a hospital system. With integration, the software has the applications to complete the task independently. Integration is the desired state for software. Data, however, needs to be shared. Your software should have the ability to exchange data.
Cassese: Per the dictionary, integrate is "to bring together or incorporate parts into a whole." Synergy is "cooperative action of two or more stimuli." So to me, if a software is integrated, it works as a whole. If two pieces of software are synergistic, they work together, but are still separate pieces. Full integration will help the clinic realize the greatest efficiencies, but many times there is also the need to "connect" with additional types of software, which is where synergy comes into play.
Forbes: Integration of a system or systems can be a long, arduous process with great benefits, but success is limited without synergy. Once synergy is established among staff, providers, and the software vendor, the constraints of using the new system will naturally dissipate allowing the software to become fully utilized in the practice.
Godges: There is a difference between system integration and synergy, but they are both closely related. System integration involves bringing applications together through either physical or functional means so that an entire system can operate more efficiently and achieve greater results.
Synergy would involve bringing two or more applications together to achieve a result that neither application could have independently achieved. Synergy can be achieved through integration, but integration doesn't necessarily result in synergy.
Neither necessarily has a bigger role in business software since the two concepts are closely related. Both do have an essential role in the future of business-related software as it will continue to become more and more important for applications to integrate with each other and will result in continual breakthroughs as synergy is achieved.
Gomez: Implementation of new software can be disruptive and traumatic for owners and users of the software, but it doesn't have to be. Through guidance, the transition should be as least disruptive as possible. It should not create panic; it should create excitement. Once implemented, software should work with the user and not against them. It should not be overly complicated so that it requires endless hours of training, but should be easy to use and easy to understand. I don't think one is more important than the other as both should focus on the same goal—increasing productivity for the user.
Mackie: Integration and synergy play an equally important role in therapy software. Integration is vital to defining how systems communicate with other systems. Since therapy software is only one piece of the Electronic Health Record, it is necessary for the software you select to be HL7 capable and have a broad integration road map with other software vendors. Synergy is essential to defining how you will work with the software vendor, specifically in regard to updates, support, and ongoing regulatory changes. In looking for software, you must consider the vendor and how that organization ranks in both integration and synergy.
Morrill: The goal of software is to provide solutions to businesses that will improve processing and ultimately allow for scalability. Integrations allow systems to simply work together. A HL7 interface from one system to another is a great example of a simple integration. A synergy would be bringing two or more pieces together to improve the software because each piece is not capable of creating the end user experience by itself. Systems that can take advantage of both will ultimately have a more robust offering.
Orr: Integration is the ability for two software packages to communicate with one another. For example, HL7 is the common protocol for distributed hospital-based systems to communicate. Simply put, an admission occurs in the ER, then via HL7 the admission transaction is distributed to the other information systems throughout the hospital. Synergy takes simple integration (sharing of information between two systems) a step further and improves on it. Synergy could be defined as two systems that when combined produce a greater sum result than that of the two systems as individuals. Simply sharing data is good, but leveraging that shared data for a greater outcome such as business intelligence would be synergy. In large IT infrastructures, such as a hospital setting, synergy would play a larger role.
Plymale: I think the real difference is between integration and "interfacing." Interfaces are typically one-way information transfers with multiple copies of data and workflows that can cause loss of information integrity. They also provide only a partial view of the information you need to run your business.
Stevenson: There are different objectives for synergy and integration. For small practices, achieving integration can be difficult and costly. That's why our private practice solution is a single app that handles every function in the practice: documentation, scheduling, billing, and management. The larger scale of a hospital creates more opportunities for integration—since the cost is distributed across more users in inpatient and outpatient. This makes the value of an integrated "streamlined" system greater for more therapists.
Stone: Integration and the synergy of different systems go hand-in-hand; however, the ability to send and receive discreet messages (integration or interoperability) with major hospital information systems or private practice management programs plays a much bigger role.
Wallace: Integration is actual information sharing between applications—these are never perfect and the vendors involved need to cooperate to provide an acceptable user experience. Synergy represents how the outputs of the applications can work together in decision support and most is a reflection or the orientation of the owners/managers. Integration is a technical solution; synergy is reflected in leadership, management, and decision making.
RM: Has cloud computing found a greater presence in business software? What advice do you have for facilities that are ready for the transition but may be concerned about data security?
Aviles: I would explain to them that the technology and expertise for housing data online safely and securely is time tested and approved. TherAssist has been hosting client data since 2000. So, while it seems new, we have stored clients' data long beyond the 6-year legal requirement.
Cassese: Yes, most software providers offer some type of cloud-based options. Data security is important. Wherever your database is housed, you need to be sure to ask the right questions about the types and levels of security that are provided.
Forbes: Cloud computing leverages expertise your practice does not have in-house. Do you really want to be the one providing enterprise level security for your in-house data, or would you rather let highly trained professionals take care of it for you such as those at Amazon, Microsoft, and Rackspace?
Godges: Definitely a movement to the cloud, which is allowing practices to move to an EMR without costly servers and IT staff. You should confirm the provider has geographic redundancy and strict access permission protocols. As well as multiple backup procedures and data encryption.
Gomez: The concept of cloud computing has firmly rooted itself into the psyche of many business owners. And it can and does work for many companies. However, clinic owners should scrutinize some very critical issues when deciding if cloud computing is best for their company. First, how reliable is your Internet connection? If your Internet connection is intermittent, then expect to not have access to your data for periods of time. Second, how mobile are you? If you simply want to occasionally be able to run reports or do a treatment note from home, are the fees worth it instead of using one of the numerous (and either inexpensive or free) remote connection programs that are already on the market. And check out the software. A popular misconception is that software that is Web-based is easier to use. Many times that is not the case.
Gottfried: I think to a large extent companies have done a better job marketing the concept of "cloud computing." In fact, companies have been providing remote access and storage for software applications for over a decade. Costs have reduced dramatically for having the vendor host the application. Should a facility be concerned about data security, my recommendation would be to request a copy of the disaster recovery program and service level expectations in writing.
Mackie: In order to make the transition to cloud computing, consider the following issues: Be sure you have access to and understand the Service Level Agreement (SLA) that the cloud company employs. This is extremely important as you want to ensure you will have the type of access to your data that is required by your business model. Also, consider where is the hosting environment(s) located and what is the level of redundancy?
If you are storing Protected Health Information (PHI) on your servers, partner with a cloud company that specializes in PHI or at least understands the rules around HIPAA and HITECH. Make sure you have a Business Associate Agreement (BAA) between all parties, including the cloud company. Understand their security model from both a physical standpoint (who has physical access) and a software standpoint (who has database access), in order to protect your data.
Morrill: The improvement in Internet speed, coverage, and stability has given cloud computing the necessary infrastructure to thrive. Let's face it, most people find it convenient to have someone taking care of that IT "stuff." The challenge we have as health care providers, especially administrators and owners, is how to make absolutely sure we protect Patient Health Information in that cloud environment, especially with cyber crime on the rise as well as changes in health care technology.
Data security encompasses many areas, not just keeping criminals from accessing your PHI. It also includes backup/disaster recovery policies, auditing, trust of the company holding access to your company's financial data, receivership of who owns the data, and many other areas. Open communication on the policies and procedures is the only way to evaluate your level of comfort with the vendor to alleviate those concerns. Ask these questions up front. If you aren't 100% comfortable or at some point that comfort level changes, find out if there is a way to move your data to another host, provider, or service.
Orr: Over the past 6 years, we have seen cloud computing move from a somewhat feared technology to an accepted and proven technology. The idea of having a server on premises requiring skilled IT staff, worrying about backups, security, office connectivity, etc can be overwhelming for many practice owners. By leveraging cloud-based systems, practice owners can avoid these hassles.
When evaluating a system, be sure that the transmission of data between your clinic and the cloud is secured via SSL or other secure standards-based protocol. Inquire about the data center (where are the servers) that will be storing your data and how are they secured both physically and electronically. They should be in a fully hardened, fault tolerant facility meeting SSAE 16 and HIPAA/HITECH standards. And, finally, ask how often your data is being backed up, to where, and what options you have to gain access to your data in the event you wish to store a copy on premises or choose to move to a different vendor.
Plymale: If you choose the right partner, your data will be more secure, more available as these partners will solve the problems of redundancy that's required for high availability. Commercial data centers also will generally have much better security and backup than an individual provider can offer.
Presement: Cloud computing has expanded faster than the rules and regulations surrounding it. The concern does not lie so much around security, but more around ownership of the data. When a user typically leaves one of these cloud-based services, their access to the Web site is terminated. What about their data? Do they receive a full copy of everything? And in what format? On a disk? How can they use the data on a disk if they don't have access to the actual program to read it? Many users are drawn in by the ease of the cloud but then punished when they leave. Also, if your software vendor goes out of business, it doesn't matter what kind of contract you may have—they have your data, you don't.
Stevenson: Although we offer both hosted and cloud-based options, 80% of our new clients are cloud-based. They have much less to worry about—servers, bandwidth, security, remote access, updates to laptops/computers, etc. Our company's Web-based solutions use encryption very similar to what a bank uses to protect your financial data. While the Web may seem scary at first, those risks are tiny compared to what you face by leaving vital data on local hard drives that can be stolen, destroyed or accessed after hours for the wrong purposes.
Stone: Cloud computing is still in its infancy, but has enormous potential for all of health care. However, because of security concerns at this time, a facility may want to host their patients' health information on a local server.
Wallace: Honestly, if the "cloud" vendor follows HIPAA standards and industry best practices for data backup and security, their data will be safer on the cloud than it is in their office.
RM: What sorts of business software solutions can assist users in increasing revenue-generating activity?
Aviles: For our clients, revenue-generating activity equates to billable visits. Thinking algebraically, increasing visits or billing increases revenue so look into features that improve one or both of these parameters. A complete electronic medical record/practice management system consisting of scheduling, documentation, billing, and reporting will boost these areas of practice.
Cassese: The use of appointment reminders and wait list tools built into electronic scheduling, can help minimize the impact of no-shows and cancellations. Co-pay reminders ensure you collect payments up front. Charge audits ensure that claims are going out correctly and that incoming payments match with expectations. EMR/documentation systems make therapists more efficient, freeing up time to see more patients. Marketing and reporting tools can help bring in new customers and target self-pay type services to the right current customers.
Forbes: Patient reminders for appointments and scheduling follow-ups through text message, e-mail, and phone calls. Patients can make payments and perform other administrative tasks instead of the office staff. Fully integrated EHR, PMS with a clearinghouse can greatly increase accuracy in billing and decrease days in AR.
Godges: Our software allows therapists to document their care and seamlessly capture all time and procedures based on the specific payor. There are patient retention tools such as authorization and future visits management, and features that facilitate delivery of non-traditional services such as wellness and injury prevention.
Gomez: The software should check multiple required items before the claim(s) is submitted. Also, cross-referencing CPT and ICD codes to make sure they can be billed together.
Gottfried: To increase revenue, a practice must do two things well: first, the practice must maximize the patient visits per referral. A good application can assist in this area with managing visit counts, expirations/authorizations, and plans of care. Second, the application must have logic to assist the therapist with correctly coding the service and procedures for that visit. Translating areas like minutes to units and recording proper modifier usage are essential to getting paid for what you perform.
Mackie: Increased revenue can be achieved by increasing availability of the therapist to the patient; the best way to accomplish this is by using software that promotes ease of use. Our software does this by providing a user friendly system at all levels, which saves the therapist time and allows him/her to complete tasks efficiently.
Morrill: Almost all revenue in a typical physical therapy practice is derived from patient care in the current market. From marketing to receivables, good business software will help identify trends and provide data to make great decisions. Many times therapists are busy and forget the most important cheerleader for their practice is the patient they are treating. Use your software to engage clients and their families through newsletters, social media, and customer surveys, the return can be enormous.
Orr: Efficiency in the clinic is key. The less time providers spend on paperwork the more time can be spent providing services.
Plymale: You need a system that can identify problems before they become problems. Ignored payor rules, missing authorizations, missing and incorrect information, scheduling and attendance problems, therapist productivity, Medicare compliance issues, collections issues. These issues are what drive financial and operating problems and you can detect and correct them before they affect your business results if you have the proper monitoring.
Presement: Good software can help to both maximize the revenue from existing clients by tracking patient fall-off, reminding clients automatically about upcoming appointments and making sure clients are complying with their recommended treatment plans. Increasing referrals can also be accomplished through better contact management with referral sources and enhancing the entire customer service experience—through automation—to garner more word of mouth referrals.
Stone: Business Intelligence Software allows a facility to capture and track the key business metrics that affect the bottom line. This kind of information is the key in identifying and improving revenue-generating activity. Our software provides a business intelligence tool which creates an abundance of meaningful reports as a by-product of the clinical documentation process.
Stevenson: For outpatient departments and practices, look for solutions that ensure: (1) all delivered treatment is authorized; and (2) all authorized treatment is delivered. You can accomplish the first goal with tools like insurance verification and authorization tracking. You accomplish the second goal by making sure patients attend all their appointments and complete their plan of care. Automated patient reminder systems are extremely effective for this.
For inpatient rehab, the biggest revenue driver is the IRF-PAI (Patient Acuity Instrument) assessment that takes place on admission. Accurate scoring of this complex measure is essential to reimbursement and requires a highly specialized technology. We're also pioneering a technology that uses these patient acuity scores to more accurately determine proper nurse staffing levels. This can greatly reduce overtime and outsourcing costs.
Wallace: Most softwares today have great tools, but owners/managers don't take the time to learn how to use the tools and consequently believe that the information is not available.
Read part one of this roundtable.