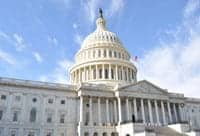 According to The Paramus Post, Bill Pascrell Jr (D, NJ), and Thomas J. Rooney (R, Fla), co-chairs of the Congressional Brain Injury Task Force, recently announced the reintroduction of HR 1098 – the Traumatic Brain Injury (TBI) Act. The announcement of the reintroduced legislation, which aims to advance the treatment and prevention of TBI, comes in correlation with the March Traumatic Brain Injury Awareness Month.
In the news story, Pascrell articulates his pride in having fought for the last 12 years to protect athletes and soldiers from TBI, adding that, "Congress will prioritize the reauthorization of this critically important legislation. In the last few years, we have learned more about the brain than we have over the last century. This knowledge should be applied to protect our fellow Americans," Pascrell says.
Rooney adds in The Paramus Post that the passing of the TBI Act would help improve the ability to prevent, detect, and treat brain injuries. "By improving coordination across agencies, including the Department of Defense and Veterans Affairs, we can make sure that Americans with brain injuries—particularly our troops and veterans—can access the services they need," Rooney says in the news story. The Paramus Post reports that representatives from the Brain Injury Association of America, the National Association of State Head Injury Administrators, and the National Disability Rights Network joined Pascrell and Rooney during the announcement.
The news story also notes that the reintroduction of the legislation came in tandem with the 12th Annual Brain Injury Awareness Day, which drew attendees from a variety of organization nationwide to Capitol Hill to educate members of Congress and their staff about the full range of reported effects of brain injury, the challenges and recoveries of individuals living with brain injury, and the services and supports available to them.
To learn more about the Traumatic Brain Injury Reauthorization Act of 2013, click here.
[Source: The Paramus Post]