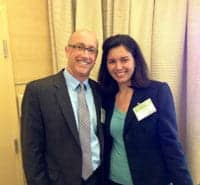 WebPT reports that it will be holding its fifth physical therapy conference, "Evolve," June 20 in Chicago. The company notes that the event will address multiple physical therapy topics, including functional limitation reporting and social media marketing. According to a recent news release, the conference will be held at the DoubleTree Chicago, Miracle Mile, 12:30 pm to 8 pm CDT.
WebPT notes that the event is open to anyone in the therapy community, including PTs, OTs, SLPs, HTCCs, and billing and front office staff. The event will also address best practices to implement and use social media to market private practices.
Event speakers include compliance expert Rick Gawenda of Gawenda Seminars (pictured far left), who will provide an in-depth overview of Functional Limitation Reporting; WebPT founders Heidi Jannenga, PT, (pictured far right) and Brad Jannenga; CEO Paul Winandy; and social media and blogging experts Mark Kats and Charlotte Bohnett.
WebPT adds that it has submitted applications for up to 3 CEUs from the Illinois Physical Therapy Association for the event and is awaiting its approval.
For more information and to register for the event, click here.
[Source: WebPT]