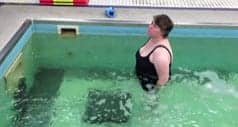 A new January 22 webinar aims to offer participants the latest research investigating the impact of aquatic therapy on patients with osteoarthritis (OA). The webinar, "Aquatic Exercise Intervention for Patients with Osteoarthritis" will be sponsored by Hydroworx and presented by the International Council on Active Aging (ICAA).
During the webinar, Hydroworx notes, Dennis G. Dolny, PhD, and Eadric Bressel, PhD, Utah State University, will share their research findings, which reportedly stem from the integration of high intensity interval training in the water and various levels of water resistance to enhance postural stability and functional capacity in OA patients.
Upon completion of the webinar, Hydroworx states, attendees with have a greater understanding of the role exercise training in the water plays in altering land postural stability and functional capacity in patients diagnosed with lower extremity OA.
Additionally, attendees will gain greater insight into the impact water-based exercise training has on exercise compliance and perception of exercise effort in OA patients, as well as how increased water resistance impacts patients who are standing and walking in the water. Lastly, attendees will learn how resistance jets can be used to increase metabolic and balance stress during water exercise.
The webinar is slated to be held 1 p.m. to 2 p.m. EST.
To register, click here
Photo Credit: Hydroworx
Source: Hydroworx