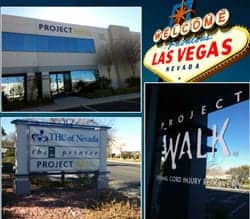 Project Walk Spinal Cord Injury Recovery Center recently announced that it will open a new, Las Vegas-based location February 10. The company notes that the Las Vegas location is the second in its franchised network to open its doors.
Project Walk bases its activity-based recovery on The Dardzinski Method. Its new location is intended bring these services to those unable to travel its California-based centers.
Brian Malkinson, director of Operations, articulates the company's excitement in bringing the brand to Las Vegas, "With this new location, Project Walk can afford its world class programs and training services to the local disability population."
A company news release reports that the franchise is owned by Terry Moffatt and Dawn Huston. The couple are familiar with Project Walk's method as Huston has been attending Project Walk's Carlsbad location since 2010 to address a high cervical spinal cord injury.
Huston emphasizes the improvements she has experienced at Project Walk, adding, "now we have an opportunity to bring the experience to those living in Las Vegas."
"…Our hope is that by opening in Las Vegas, those affected by a disability won't have to travel as far, if it all," Moffatt says.
The release notes that Project Walk – Las Vegas is accepting application here
Photo Credit: Project Walk
Source: Project Walk