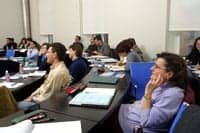 The Rehabilitation Institute of Chicago (RIC) reports that it will be hosting an interactive workshop February 22 centered on comprehensively evaluating and developing an evidence-based intervention plan for neurologic upper-extremity management and function. According to RIC, recommended attendees for the workshop, "Neurologic Upper Extremity: Function and Management," include occupational therapists, occupational therapy assistants, physical therapists, and physical therapist assistants.
The course aims to equip participants with the ability to identify both neurologic and orthopedic aspects of the involved upper extremity using standardized and non-standardized assessments, and to describe a range of intervention techniques intended to improve functional use of the upper extremity. Course objectives also include building the ability to identify or control pain syndromes, contracture, and overuse of stereotypical movement patterns, and to identify current motor control research that supports and/or challenges current management of the neurologic upper extremity.
RIC notes that Glen Gillen, EdD, OTR, FAOTA, author of Stroke Rehabilitation: A Function-Based Approach and Cognitive and Perceptual Rehabilitation: Optimizing Function, will serve on the workshop's faculty. Gillen reportedly serves on a variety of editorial boards for journals related to physical medicine and rehabilitation and will be delivering the Eleanor Clark Slagle lecture at the 2013 American Occupational Therapy Association (AOTA) conference. Gillen holds experience in both acute to long-term care and provides in-depth lectures at the local, state, national, and university level about multiple topics linked to neurorehabilitation.
The intermediate program, RIC states, awards occupational therapists 1.3 CEUs or 13 contact hours. Potential attendees are encouraged to register for the event online.
To register, click here.
For more information, visit www.ric.org

[Source: RIC]