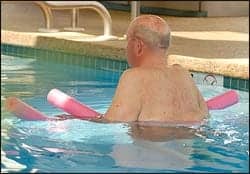 A therapy patient's weight is bouyed by a flotation noodle. Portable aquatic exercise equipment is used at off-site programs.
After reading the papers, scanning the journals, and listening to your colleagues, you realize that aquatic therapy is a hot commodity in the health care community. Of course, you want to offer your patients an environment that promotes relaxation, decreases pain, and promises faster results than traditional land therapy (it also sounds like a great opportunity to get an edge on the rehabilitation market). What is stopping you? Oh, yes, no pool—and the prospects of budgeting for one are slim to none. If you think there is no way to incorporate a pool program into your practice, think again.
According to health and fitness expert Ruth Sova, founder of the Aquatic Therapy and Rehab Institute Inc, Port Washington, Wis, "Aquatic exercise has become a major exercise alternative in our fitness-conscious society."1 Water's unique properties, including buoyancy, viscosity, hydrodynamics, hydrostatic pressure, thermal properties, and turbulence, make it universally attractive. Perhaps this is why rehabilitative aquatic exercise has had such enduring power over the centuries, and why it has had a recent resurgence in popularity. There are many ways to offer the popular benefits of aquatic therapy to patients. The obvious choice is to build or install an in-clinic pool. However, if installing a pool is not an immediate possibility, consider the option of locating your land therapy services at a health club or other facility that houses a pool, such as a local hotel, senior center, or YMCA.
DEVELOPING AQUATIC PROGRAMS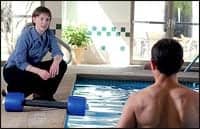 Author Stephanie M. Leslie, MSPT, discusses aquatic exercises with a client. Leslie conducts sessions at New Hampshire's Nashua Courtyard Marriott pool.
Ron Fuller, BA, PTA, works at the Manchester, NH-based SportsWorks, a satellite site sponsored by Elliot Hospital (also in Manchester), and has been involved with aquatic therapy for more than 15 years. Hired as the facility's director of aquatic therapy, Fuller has been instrumental in the development of aquatic programs at three sites run by Elliot Hospital. According to Fuller, aquatic therapy is "a great adjunct to land therapy. It allows us to work on higher level skills and then fine-tune these skills on land."
SportsWorks, one of the many therapy clinics that have made their home base a health club, operates out of the Executive Health and Sports Center. Fuller estimates that 95% to 98% of his clients at SportsWorks participate in the aquatic therapy program. Why such high numbers? Fuller explains he provides a great amount of education to his fellow staff members regarding the benefits of pool therapy. Also, the pool is on-site.
Additionally, Fuller believes there is a significant advantage to having a pool on site; patients have instant access to the pool, and will visit the clinic more frequently because of the pool's availability. Hence, Fuller says, "Patients get better, faster." He does note one distinct disadvantage: during holiday and vacation schedules, a facility can become crowded as patients and health club guests simultaneously use the pool. However, building a good relationship with those who maintain the pool goes a long way in providing a quality pool program and safe environment, as well as an amenable schedule to both patients and health club patrons.
If relocating your facility to a health club is not an option, and there are no plans to begin to install your own on-site pool, there are still many viable options to provide your patients with an aquatic therapy program. Consider contacting senior centers, community centers, assisted living facilities, and YMCAs. Also, many local hotels have pools available for use, and, according to Fuller, a number of them already have policies and procedures in place for providing aquatic therapy. "In some ways, [the hotel establishments] were ahead of the game when it came to providing aquatic therapy. They were ready for us."
A SUCCESSFUL OFF-SITE PROGRAM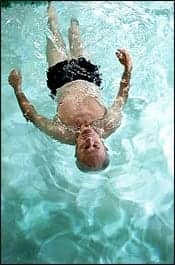 Continuing an aquatic program is beneficial to patients long after they have finished prescribed therapy.
St Joseph Hospital in Nashua, NH, has offered aquatic physical therapy for more than 12 years, using local hotel pools as meeting places for therapists and patients. In addition to all the benefits of an aquatic therapy program, among the key highlights of holding the sessions off-site are the transfer of responsibility of pool maintenance to the hotel and the absence of a need to raise start-up/installation costs for a pool on-site.
Beth Frohman, BS, PT, an aquatic therapist at St Joseph Hospital, believes that having an aquatic program is a great asset, although there are some differences between a therapeutic and a recreational pool. For instance, in accordance with New Hampshire state law, hotel pools are kept at lower temperatures (around 82°F) than typical therapeutic pools (which range between 88°F and 96°F). Lower temperatures can be viewed as a benefit when treating patients who, typically, cannot tolerate very warm temperatures, such as those with multiple sclerosis. Also, hotel pools are usually not as deep as therapeutic pools, nor do they have specialized seats, whirlpools, or side railings. "Most of the uses for these features," Frohman notes, "can be simulated using a myriad of portable aquatic equipment and a little imagination."
When developing an off-site aquatic program, it is important to coordinate legal and liability issues, policy and procedure development (including emergency procedures), scheduling, and equipment storage issues with your host site. In addition, other considerations, such as equipment purchases, initial staff training, and continuing education, need to be addressed.
According to Fuller, it is fundamentally essential to have a good understanding of hydrodynamic principles, in order to formulate care plans, carry out treatment, and progress exercise programs safely. Also, having staff that are invested in the program is vital to its development and success.
The benefits of a pool program are also beneficial to its hosts. Not only do hosting sites generally receive a rental fee or per-patient fee, health clubs often consider patients as prospective members. For example, the sports center where Fuller's practice is located offers a discounted membership to either the pool or the entire health club, to former patients. Hotels also can generate further revenue from former patients. (For $75, the Nashua Courtyard Marriott extends a renewable, 3-month medical membership to patients who have completed an aquatic therapy program through St Joseph Hospital.) Frohman says, "One of the draws for patients is the ability to continue their [personal] exercise program in the water for an affordable fee."
POPULARITY OF AQUATICS GROWING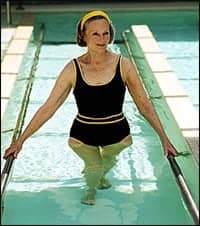 Maintaining a quality pool program and safe environment ensure a successful relationship with off-site pool providers.
Aquatic therapy is one of the fastest-growing areas in physical therapy.2 And, even if it is impossible to house a pool on-site, rehabilitation practices can develop their own profitable aquatic therapy programs.
"It's a lot of work, but it will increase your profits twofold," confirms Fuller. He believes there are three key factors to remember when developing an aquatic program. First, it is helpful to have a coordinator, or someone who has a firm grasp of hydrodynamic principles, as well as a solid knowledge base of the population to be treated. Second, education is extremely important. It is vital not only for staff, but also for adjunct personnel (including physicians and insurance companies). Finally, develop a marketing strategy for patients, physicians, and insurance companies.
Kathleen Erickson, MSPT, a staff physical therapist at St Joseph Hospital, says, "Offering an aquatic program is absolutely essential for quality patient care." Erickson also acknowledges that patients are not the only ones who benefit from the symbiotic relationship between therapy practices and host pools.
Mark Lesser, who has worked for Marriott Hotels for 22 years and is currently general manager of the Nashua Courtyard Marriott, agrees. Says Lesser, "Hosting St Joseph Hospital's pool program reflects [Courtyard Marriott's] company policy. It builds our reputation of caring in the community."
When considering providing aquatic therapy services to your facility's clientele, thinking "outside the clinic" and looking to a health club or host site will bring you one step closer to making your aquatic therapy dreams set sail.
Stephanie M. Leslie, MSPT, is a staff physical therapist at St Joseph Hospital Rehabilitation Services Department, Nashua, NH, and has special interest in the areas of pediatrics and aquatics.
REFERENCES
Sova R. Aquatics: The Complete Reference Guide for Aquatic Fitness Professionals. Boston: Jones and Bartlett Publishers; 1992:1-2.
Hinesly D. The H2O solution. Physical Therapy Products. 2005;16(4):12-17.
DRY HYDROTHERAPY: DON'T ADD WATER
Hydrotherapy, or the therapeutic use of water, is one of the oldest forms of medical treatment for soothing aches and pains, as well as treating diseases. Its use has been recorded as early as ancient Egyptian, Greek, and Roman civilizations. Dry hydrotherapy, on the other hand, has been used for about the last 15 years or so, but, most recently, has become more popular in the rehabilitation industry. From coast to coast, more and more health care practitioners have recognized its benefits—both therapeutically for their patients and from a business point of view.
HOW IT WORKS
What makes dry hydrotherapy different from traditional hydrotherapy is how the water massage is delivered. With a hydrotherapy table, the patient no longer has to get undressed and climb into a bubbling tub, and the practitioner does not have to change the water or chlorinate it, as with a swimming pool, to combat bacteria. With the latest technology, the patient lies—completely clothed—on the surface of a dry hydrotherapy table. Just under the surface is a mattress-like pad or "bladder" filled with heated water. A pump propels the water toward the patient through hydrojets, and the pressure of the water against the patient's body provides an effective deep tissue massage. Dry hydrotherapy tables contain anywhere from nine to 36 water jets, which spin at more than 200 revolutions per minute. It takes approximately 5 to 15 minutes per treatment, depending on the program recommendations.
Some models have covers and can be closed up while the patient lies inside, offering a 360-degree experience with bladders located above and below. "It does muscle massage without having a [therapist] do it," notes Steven Baron, DC, of the Bay State Chiropractic Health Center, Catonsville, Md. Baron currently has three tables in his practice.
The intensity or number of revolutions of the jets (usually controlled through a 1 to 5 intensity setting), as well as the water temperature, can be changed. "We keep ours between 98 and 100 degrees, which is below [the temperature of] a typical whirlpool," says Arden Kirchem, DC, of Kirchem Chiropractic Associates, Portland, Ore. "People come off of that [table] often perspiring surprisingly," he says. "To me, that's a benefit. Anytime there's perspiration or sweat, you're removing some toxins," he adds. Both Baron and Kirchem have massage therapists on staff for hands-on work and do not rely totally on the tables.
HOW IT'S USED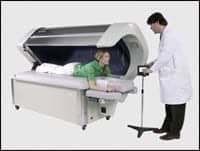 Dry hydrotherapy offers the benefits of water massage—without getting wet.
According to Kirchem, the most common uses are for people healing with sprain/strain injuries and those with arthritis, joint, and muscle conditions. "The fibromyalgia patients love it because they tend to have trouble with anything where the muscles and joints are being stressed at all," he points out. "Even lying on hard surfaces is very hard [for them]. The nice thing about the table is that because it involves 'flotation,' your body has hardly any stress on the muscles or joints. When you add the heat, people relax very well." There is minimal strain on the weight-bearing joints, and few, if any, muscles are required to hold the body up or in position.
"This is not particularly therapeutic, but a lot of people have said that just the sound of the motors and the water almost puts them to sleep," Kirchem says. "The combination of the heat, the jets, and the noise that [the table] puts out, I think, is very sedating to a lot of people." Additionally, he uses it for patients with trigger points and any kind of hypertonicity of muscles. "This is really an obscure thing," he adds, "but we've used it on people with constipation problems. We can turn them over on their stomachs to get their lower abdominal area massaged. You can work on any body part very easily just by repositioning the patient."
Baron also uses the table for sprains and strains, as well as muscle spasms. "It helps relax the patient," he explains, "patients who are under a great deal of stress, which has physically manifested. A lot of times this will alleviate and facilitate other forms of therapy so there's a synergistic effect. It makes other treatments perform better."
Bill Gregory, LPT, CSCS, is the owner of Bucks Physical Therapy and Sports Rehabilitation (with locations in Warminster, Richboro, and Langhorne, Pa), and owns four dry hydrotherapy tables—two in Warminster and one in each of the other locations.
"I've used one [as therapy] on a joint replacement [patient]. I have [clients] come in and they will not be able to straighten their leg out after knee surgery. I'll put them on the [hydrotherapy] bed, in a reversed seated position—so that the backs of their legs are sitting on the table," he explains.
"The water property will come up underneath their legs and heat up, then they're able to do a quad set. It relaxes the muscles and really helps us stretch them out a lot easier. It's a nice precursor to get the patient relaxed before we work on them."
Irving I. Haber, DO, of Therapy Alternatives Rehab Services, Terre Haute, Ind, also has a table. "It's a great tool for any rehab doctor with a varied practice," he says. "I originally purchased [it] to use in softening muscles before performing muscle energy techniques and to relax patients who have muscle tension and tautness."
Additional therapeutic benefits may include increased circulation, flexibility, endorphin production, blood volume and oxygen consumption, and joint mobility. Dry hydrotherapy is an analgesic and promotes tissue healing/repair. A strengthened immune system, improved skin tone and nerve function, and a lessening of general nervous sensibility have also been noted. Other conditions that may benefit from treatment include insomnia, sciatica, fatigue, headaches, chronic inflammation, myositis and neuritis pain, irritated cutaneous nerves, soft tissue injuries, and bursitis.
Compared to other types of medical equipment in his office, Haber says that his table requires the least amount of maintenance. Kirchem notes that his unit did have some problems with plastic jets in the past. The manufacturer, however, upgraded the jets, and after the plastic jets were replaced with metal ones, there have not been any problems.
RISKS AND PRECAUTIONS
"Certainly, somebody who has a fracture—rib or spinal—for example, you wouldn't want to put them on the table," Baron says. "The jets can actually worsen an acute fracture." He also notes that because the muscles are being vigorously massaged, patients with certain types of conditions (for example, those who cannot feel or have poor sensory levels, such as with diabetic neuropathy) are not a good choice for treatment. Other patient conditions to be evaluated before use of the table might include: a weak heart or pacemaker; a systemically debilitated or neurologically impaired state; cancer; and pregnancy (although no direct contraindication has been found).
COST TO BENEFIT RATIO
There is a huge range in terms of cost for a dry hydrotherapy table. Prices start from several hundred dollars (for home use) to more than $30,000, depending on the model and features involved. Insurance reimbursement varies, too. Haber says he has not had any problem with that. "Every piece of medical equipment I have must serve the needs of the patient and be efficacious," he stresses.
According to Gregory, "If you have a small clinic and you needed something to assist you, yet don't have the luxury of putting in a pool or whirlpool, [the hydrotherapy tables] are another avenue to go. They're pretty inexpensive for [the benefits] you're getting." He stresses that his clinics are much more hands-on and the tables are adjunct to their treatments.
"We've set it up in an environment with soft music, windows, and trees," Gregory concludes. The therapists at one of his other clinics, where acupuncture is offered, love the hydrotherapy table because they can put their patients on the table, fully relaxing them prior to their acupuncture treatment.
Baron's philosophy is that "It's your body, your health, and your choice." If his patients want a particular therapy from which he believes they will benefit, he will do what he has to do—whether or not the insurance company reimburses for that therapy. Some of his patients pay for the dry therapy treatment out of pocket. "I have a fair number of them," he says.
From a "running a business" standpoint, the practice also benefits. For one, by providing an unattended therapy, there is reduced fatigue on the physician(s) or massage therapist(s). The table does the work. Second, patients who like the therapy and recommend it could increase the number of referrals to the practice with positive word of mouth. And third, the therapy can be seen as a way to increase the overall value patients receive on each visit, because they are offered a distinctive service, and expect value for their money.
Nina Silberstein is a contributing writer for Rehab Management.