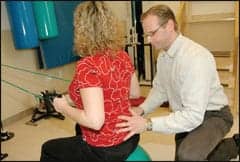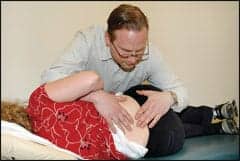 Above: Author Ben Gilbert, PT, MS, OCS, and Christie McKenzie, PT, demonstrate proper form and lumbar postures using manual cues during a seated row exercise. Below: Gilbert performs spinal mobilization into rotation.
Low back pain (LBP) is a major health issue in today's society. It is associated with high health care costs, loss of work income, and disability on a global scale. It is one of the most common reasons people seek physical therapy treatment. Because of its ubiquity, low back pain is among the most heavily researched areas of therapeutic intervention, assessment, differential diagnosis, and prognostication in the field. Recent research showed that 43% of individuals with acute low back pain seen in primary care settings developed chronic low back pain, of which nearly a third took more than a year to recover.1 It has been found that, overall, 75% to 85% of the general population will experience some form of LBP during their life, according to numerous epidemiological studies of low back pain. Countless studies have looked into the efficacy of therapeutic interventions for the treatment of low back pain. Some of these interventions include manual therapy, such as spinal manipulative therapy and joint mobilizations, therapeutic exercise of the abdominal and lumbar musculature, soft tissue mobilization, stretching of muscles, therapeutic modalities (hot and cold therapies, and ultrasound), electrical stimulation, laser therapy, and orthotic fabrication for the lower extremities.
At the Burke Rehabilitation Hospital in White Plains, NY, LBP is commonly treated on an outpatient basis at our main campus facility, along with our three satellite facilities. For the year 2009, there were about 600 patients evaluated with a lumbar diagnosis, accounting for more than 4,500 total treatment sessions. LBP diagnoses commonly seen in our clinics include laminectomy, discectomy, fusion, lumbar herniated nucleus pulposus (HNP) with or without radiculopathy, lumbar stenosis (central canal or lateral), lumbar degenerative joint disease (DJD), lumbar spondylolisthesis, lumbar spondylosis, and LBP from fibromyalgia and other pain syndromes.
INDIVIDUALIZED CARE PLANS
To treat low back pain effectively and efficiently, physical therapists at Burke devise individualized care plans for patients based on their history, symptoms, and daily activities. First, we conduct a detailed patient interview to get to the origins of the problem. To effectively treat a problem (in any part of the body), it is vital to "know" the patient: Age, occupation, recreational activities, psychosocial factors, insurance/compensation/litigation issues, and, equally important, identifying the patient's concerns, needs, problems, and their own goals of treatment. With the abundance of accepted treatment interventions for LBP, the above criteria remain vital as part of these patients' care plans. It is this attention to the details of our patients' lives and individual care that adds to the effectiveness of our specific interventions.
As part of a thorough subjective evaluation for LBP patients, the physical therapist will gather the following information: When the pain started and the manner of onset, depth of pain, how often it occurs and if it varies in intensity, type and quality of the pain, and 24-hour a day behavior. LBP can involve problems at the lumbar disc (discogenic), facet, nerve root, or sacroiliac joint, among other causes. Special questions also included in our examination concern other systems potentially being involved: recent weight changes, general health status, bowel and bladder issues, the effects of poly-pharmacy, if applicable, as well as recent blood work or x-rays. The physical therapist will call the referring physician for any clarifications or to alert them to any new findings.
Looking for back pain management solutions for your clinic? Rehab Management's Buyer's Guide has the information you need.
When the subjective portion of the initial evaluation is complete, the objective examination begins. This is where we document all relevant objective information for communication to the patient and physician. The examination starts as soon as the patient walks into the room, where posture, gait mechanics, and general behaviors are noted. Range of motion (ROM), strength, sensation, reflexes, functional tests, balance, skin integrity, and joint and soft tissue palpation are all assessed to get as complete a picture of the patient as possible, in order to provide the most effective treatment. At Burke, the physical therapists complete this thorough examination in about 45 minutes, then begin treating the patient the first day, often with postural education or adjustments, instruction in a home exercise program, or a pain-relieving technique, as appropriate. The Burke Rehabilitation Hospital uses computers with a wireless network for all patient charting, so our notes are very thorough and easily read and communicated to all health care providers. Prescriptions, lab results, and other patient information can be scanned into the computer system, creating a paperless, organized file. Plans of care can be faxed to the doctors using wireless computer faxing capabilities, or they can be printed out and faxed manually.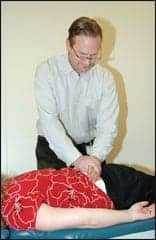 Gilbert performs posterior to anterior spinal mobilizations for the lumbar spine.
Physical therapists are trained in accredited postgraduate programs lasting 2 to 3 years on average. Coursework is geared toward general entry-level skill in evaluation, treatment, and assessment of orthopedic, neurological, and cardiopulmonary problems. The physical therapy staff at Burke all have either their master's or doctorate degree. Skill building and learning are an ongoing priority, as two times per week, time slots are set aside for in-services and lectures. This is where staff report on a continuing education class they attended, or demonstrate a treatment intervention recently learned or present a case study or journal review. Monthly journal clubs and case study presentations help provide the staff with opportunities to stay current with the research, as well as fostering good communication and teaching skills. The management and staff put a premium on staying current with the latest evidence in physical therapy practice, for all patient types.
MANUAL, THERAPEUTIC, AND FUNCTIONAL THERAPIES
Physical therapy interventions for LBP at Burke involve a mix of manual therapy techniques, therapeutic exercise, and functional retraining. For pain relief, we prefer to use established manual techniques, such as joint and soft tissue mobilization, myofascial release, massage, and trigger point release. We also use ultrasound, mechanical traction, transcutaneous electrical nerve stimulation (TENS), and hot and cold modalities as needed, and as directed by the referring physician. During the course of treatment, the patient is educated on how they can prevent reinjury, learning proper posture and improving their ability to control their posture during daily activities. A home exercise program, with regular modifications, serves to foster independence and self-management of their problem. With a low back injury, as with other injuries, patients need to learn how to manage and progress themselves after the skilled physical therapy ends. Patients typically reach a level of conditioning that far exceeds their prior levels, due to improved postural awareness, conditioning, and self-management skills. Since they are expected and encouraged to participate in their own rehabilitation right from the start, patients at Burke are likely to have improved compliance with exercise regimens after discharge. Staff therapists at Burke use learned techniques and exercises from many of the pioneers of physical therapy practice: Cyriax, Janda, Kaltenborn, Maitland, McKenzie, and Mulligan, to name a few. Functional training, including body mechanics, lifting techniques, and other work-related activities, is started as the patient's pain abates. Many of the therapists are skilled in the Pilates method of core stability training and use it in their care plans for low back injuries.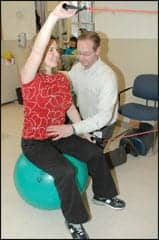 Dynamic stability training using elastic tubing and a therapy ball.
In addition to the interventions described above, Burke has aquatic physical therapy to offer patients with low back injuries (along with other diagnoses). The buoyancy of the water helps unload joints that are aggravated by weight bearing. This allows patients to perform a more rigorous strengthening and conditioning program than they could tolerate on land. Burke's pool is maintained at around 92ºF, so it is relaxing and soothing for tight muscles as well. A physical therapist supervises each 45-minute class, in a group setting with individualized attention. Patients learn to be independent in an aquatics exercise program, and as their symptoms improve, they are reassessed for land therapy at regular intervals. It is the goal of every pool patient to return to a land-based program.
REASSESSMENT PLANS
Patients are reassessed at regular intervals (typically every month) to determine the continuing need for skilled PT services. They are taken through tests and measures to assess their pain and level of disability, and these are compared to the previous assessment. As the patient makes improvements, goals will be modified or eliminated, with any changes to the treatment plan communicated to the referring provider. As part of discharge planning, work-related and daily living activities are practiced in the clinic. Balance and proprioception are also included, as the patient resumes more complicated movements and strains to their bodies. It is our philosophy at Burke that preparation for a return to work and the demands placed on the body need to be addressed while the patient is still on program. This is to assure greater confidence and compliance upon discharge, and that the patient is truly able to manage their symptoms should they recur. At Burke, there is also an extensive wellness program designed for former patients and community residents to continue supervised exercise regimens as a maintenance program. For patients with low back injuries, there is the Burke Smart Fitness Center (a fully staffed health club), and a choice of several wellness programs including: community aquatics, strength and conditioning group classes, yoga, tai chi, Pilates, and Silver Sneakers exercise programs. These are all available (for a fee) to patients after their physical therapy ends, with the goal of maintaining their conditioning and their state of wellness, to prevent reinjury.
As low back injury continues to be researched and treatment approaches evolve, physical therapists at Burke will continue to offer comprehensive, individualized, and effective treatment plans, both during and after the therapy ends.
---
Ben Gilbert, PT, MS, OCS, is manager of the outpatient physical therapy department, Burke Rehabilitation Hospital, White Plains, NY. He can be reached at .
REFERENCE
Henschke N, Maher CG, Refshauge KM, et al. Prognosis in patients with recent onset low back pain in Australian primary care: inception cohort study. BMJ. 2008;337:1-7.
Targeting The Pain
The search for relief from back pain has existed as long as Homo sapiens began to walk erect. Fortunately, biotechnology has provided several modalities to help alleviate chronic and acute musculoskeletal pain, such as therapeutic laser therapy.
Using low-level lasers is advantageous when addressing lower back pain, as they offer noninvasive, deep tissue treatment that can target problem areas with the use of safe, yet effective, power density levels. Laser therapy has been proven beneficial in the treatment of chronic arthritis, tendonitis, carpal tunnel syndrome, and fibromyalgia.
To learn more about the use of laser therapy for pain management, read "Harnessing Energy" in our online archives.
—Rogena Schuyler Silverman