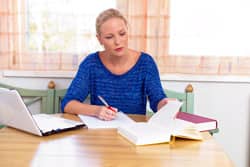 An entry-level course for OTs, COTAs, PTs, PTAs, and SLPs offers an overview of the low- and high-tech aids designed to enable functional independence in children and adults living with disabilities. Participants have multiple course-delivery format options, including mailed home study, online/Internet format, and printable format.
Joel Desotelle, MS, OTR/L, reportedly serves as instructor for the course, titled "Technologies that Aid Manipulation and Control of the Environment." Desotelle specializes in neurological disorders in children and adults, and has presented on a range of topics such as stroke rehab, neuromuscular disorders, falls, autism, sensory dysfunction, dementia, and outcomes-based therapy.
According to Edlantis Seminars, following the course's completion, participants will have gained a variety of skills, including the ability to list functional manipulative tasks that can be aided by assistive technologies, functions carried out by electronic aids to daily living systems (EADL), and the ability to describe low-technology aids useful for self care, school and work, and play and leisure activities. Participants will also gain the skills necessary for describing an assessment process to determine the most appropriate EADL system and the basic components of EADL systems and how they are implemented, Edlantis Seminars adds.
For more information about this course, click here.
[Source: Edlantis Seminars]