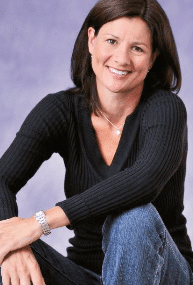 The hotel fire alarm tramples my dream like a pack of wild dogs. It's 5 am as I stumble out of my room, joining other confused and stunned guests. Many of us walk to the end of the hallway and start down the stairs at the exit. By the second flight, we look at each other and realize this is one of the hotels serving the Abilities Expo. For the next 3 days at the New Jersey Convention Center, almost 6,000 people with disabilities will attend. We are jarred by the awareness some of those 6,000 souls are still inside their rooms, with no way to get out of the building.
At that thought, my fight or flight response kicks in. My mind races to remember people I know who are staying in this hotel and use a wheelchair. I remember greeting my friend, Auti Angel, earlier that evening. Auti is from California, a dancer who conducts one of the most popular workshops at the Abilities Expo. Auti is also a star of the popular television series Push Girls. I speculated, however, that Auti was not about to push down four flights of stairs. I fumbled for my cell phone and found her number. She answered my call with a groggy voice. Against the din of the hotel's screeching alarm and the fire engine sirens outside, I ask Auti if she wants help out of the building. I assume by leveraging her strong arms and petite build against my limited strength, the two of us could most likely make a successful exit. As I speak with Auti, people around me are also hastily making plans and exchanging information about friends and co-workers who remain in the building—which at this point has no working elevators.
(Below: Auti Angel sets up the groove at the Ability Expo.)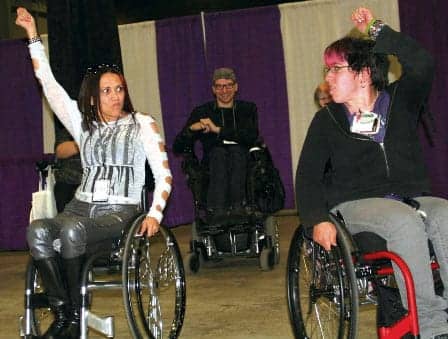 Within minutes, hotel personnel announce the alarm had sounded unintentionally, and we are directed back to our rooms. I plod back up the stairs, but notice my physical exhaustion is eclipsed by the sense of gratitude I feel at being part of this warm, faithful, and inclusive community I have grown to treasure.
Attending the Abilities Expos for the past several years, Auti and I along with countless others have developed a close bond, for whom the expo has become a focal point. The Abilities Expo basically provides a village in which—for 3 days—a person with a disability is among the majority. This was crystallized for me by a woman I met while working at the UsersFirst booth. The woman, who uses a manual wheelchair, wore the most pleasant look on her face when she said to me, "I love being here. I blend in and no one is all over me trying to help me." The Expo is not a clinical setting, it affirms human abilities and highlights potential—for everybody.
Conducted seven times each year in cities throughout the country, the Abilities Expo draws more than 25,000 attendees annually. Therapists have the opportunity to see and touch the major brands of equipment including: manual wheelchairs, power wheelchairs, standers of all sorts, bath equipment, therapy equipment, outdoor rugged wheelchairs for the forest or the beach, transfer gadgets of all sizes—some even motorized—and all types of cushions. There are nonprofit organizations that provide various types of support, sports equipment, and lively workshops that feature singing, dancing, horses, and more. Some workshops also take on practical subjects such as traveling, disability benefits, parenting skills, and how wheelchair users can find the best wheelchair to match their lifestyle. The Expo also attracts entrepreneurs of all types, exhibiting unique products and services that most likely will not be found in the average product magazine. My favorite gadget from this particular expo was the Beer Buckle: a cup holder hidden in a belt buckle. Fantastic idea, if you like the buckle.
Through these events, I have met thousands of people with disabilities, their friends, family, caregivers, and clinicians. And, to us—the community of people who understands the right wheelchair is essential—the expo offers the opportunity to unite and share stories. United through UsersFirst, this community can speak out with a strong voice when insurance policies limit access to the right wheelchair, and restrict the freedom to enjoy experiences such as the Abilities Expo. Consider how your own ability could help fuel this community, and join the movement of people who understand how important the right wheelchair is to the independence of mobility users. RM
Ann Eubank, LMSW, OTR/L, ATP, CAPS, is vice president of community initiatives, UsersFirst, a program of the United Spinal Association. For more information, contact [email protected].