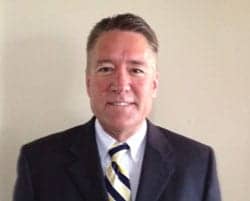 Kevin Young (pictured right) was recently hired as a sales representative for Ottobock's Technical Orthopedics. In his new role, Ottobock says, Young will be responsible for the territory that covers Indiana and Kentucky. A news release from the Minneapolis-based company notes that the new hire holds a bachelor of science degree in business from Indiana University and brings more than 20 years of experience in the health care industry to his position.
Young previously served as an account executive for medical technology company Kinetic Concepts Inc, sales and clinical territory manager for Regenesis Biomedical, regional director for Destiny Medical Supply, and most recently as regional account manager for National Wound Care.
Walter Governor, national director of sales for Ottobock Technical Orthopedics, reports that the company is pleased to have Young join the Ottobock team, adding that Young "comes to Ottobock with extensive experience in medical device sales and a track record that shows an exceptional commitment to a solutions-based approach with customers," resulting in a history of success in the market place.
[Source: Ottobock]