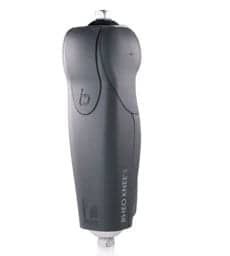 Össur's RHEO KNEE 3 aims to provide natural knee function by continuously adapting to the user and environment. The product is designed to offer users swing initiation that enables a smoother gait, in spite of potential obstacles such as crowds and confined spaces. Its improved toe clearance also targets a decreased risk of falling.
The device's actuator and resistance control is engineered to ensure maximized resistance, and its constant power spring provides natural progression in swing. The RHEO KNEE 3 also features five-sensor gait detection, including new gyroscope technology, built to target stability and dynamic response in a variety of situations.
The company adds that the RHEO KNEE 3 provides an improved user profile, with battery autonomy up to 3 days and an increased user weight limit of 300 pounds.
For more information visit www.ossur.com
[Source: Össur]