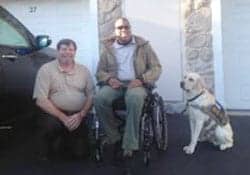 Sunrise Medical, Fresno, Calif, has announced its newest product donation recipients of the Propel Donation Program. The company notes that the program was initially created in the fall of 2012 to support its mission of "improving people's lives." The program is designed to provide assistance to end users who may not have access to complex rehab products and technology.
The Propel Donation Committee reviews all applications and selects one or more individuals quarterly to receive product donations.
In a company news release, Kristyn Campbell, marketing manager, Sunrise Medical, explains that once the recipients have been selected, "We work with their local supplier and ATP [assistive technology professional] to custom configure the product that best complements and enhances the lifestyle of that individual."
The first of Sunrise Medical's fall 2013 donation recipients is Brandon Holiday (pictured above, right), New Jersey. The company notes that Holiday works to provide opportunities to individuals with disabilities through adaptive sports.
Holiday underwent a below-knee amputation and has been diagnosed with Systematic Lupus and Addison's disease. The release states that Holiday currently uses a Quickie 2 ultra lightweight folding wheelchair, and while he was granted funding for the chair, he was denied reimbursement for seating products. As a result of the lack of appropriate seating components and comfort, Holiday was limited in the time he used his wheelchair.
To combat this, Sunrise Medical says, Holiday worked with Curtis Boyer, ATP, Numotion, to decide on the JAY Lite cushion with solid insert for added stability. The pair also decided on a shoulder height JAY J3 back with posterior and lateral thoracic support. The new seating, the company notes, has allowed Holiday to remain comfortable in his wheelchair for longer periods of time, thereby enhancing his independence and range of mobility.

The organization Dogsong Animal Training and Behavior (pictured below, left), Dillon, Colo, is the program's second donation recipient.
A Q7 and QM-710 were provided to the organization through the Propel Donation Program and will be used for service dog training. Lyn Manton Krueger, trainer, emphasizes that the dogs, "bridge a gap for our clients who depend on their service dog for assistance in all aspects of their impairment, and provide a vehicle to socially connect."
The Q7 and QM-710 allow each dog to spend a significant amount of time working with their trainer while using a wheelchair, the company notes.
This training component is vital, Manton Krueger says. "It is critical that the dog is comfortable doing all their tasks with their handler in their chair."
To apply for the Propel Donation Program, click here
[Source: Sunrise Medical]