Ottobock, Minneapolis, Minn, announced the most recent winners of Ottobock's "C-Leg 15 Year Anniversary Photo Contest." According to a company news release, Ottobock facilitated the contest as part of the celebration to commemorate the arrival of the C-Leg in the US in 1999 and highlight its impact.
The release notes that the June winner, David Berling, (pictured above) Avondale, Ariz, was an active duty air force captain when he lost both of his legs above the knee in a private plane crash in 2007. Berling's C-Legs have allowed him to return to his passion for flying and the release states that his winning photo depicts him standing in front of his Cessna Cardinal.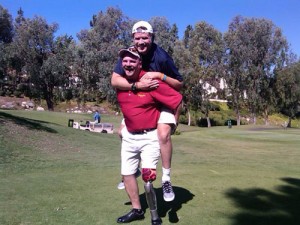 The July winner, Mike Hodges, (pictured right) Eden Prairie, Minn, lost his leg above the knee as a result of being electrocuted by power lines. Hodges' photo was taken while playing in a charity golf tournament in California. The release states that in the photo Hodges opted to demonstrate the C-Leg's stability by giving actor Will Ferrell a piggy-back ride.
To participate in the contest, users of the C-Leg or another prosthetic product submit photos or videos showing how it has changed their lives. One winning photo or video will be chosen each month through November 2014, with prizes that include an iPad, GoPro camera, or Kindle Fire. A grand prize of $1,000 will be awarded in December, the release says.
Karen Lundquist, director of communications, Ottobock, emphasizes the company's fortune in having "a front row seat" to stories that illustrate the impact of the C-Leg technology on users around the world.
"Their experiences are inspiring and motivating and I'm excited to have this opportunity to share a photographic glimpse of the everyday heroes the competition is gathering. These are people we can all relate to and celebrate," Lundquist adds.
Details of the photo contest appear on www.clegheroes.com
Source: Ottobock