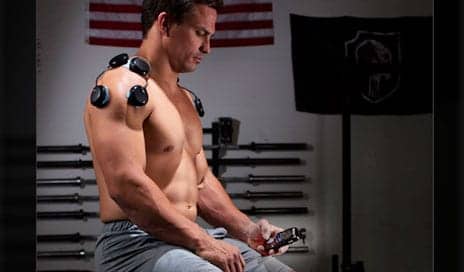 Recent FDA clearance allowed San Diego-based DJO Global Inc to raise the curtain on a wireless neuromuscular electronic stimulation device designed to raise the ceiling on workouts for serious athletes.
Wireless USA is a neuromuscular electronic stimulation (NMES) device designed for athletes and fitness enthusiasts to supercharge their workouts and speed recovery. The device is designed to free users from wires as a way to improve the training experience and allow elite athletes to ratchet up workouts to what DJO Global characterizes in a recent media release as a "higher level."
"Wireless USA is taking wearable technology to the next level," says DJO Consumer President Toby Bost. "This product brings 25 years of proven technologies and innovations to new heights to provide athletes with real results from this wearable device. Most importantly, Wireless USA is accessible and beneficial to athletes of all sports and fitness levels to maximize their workouts and achieve peak performance."
From fast recovery to muscle strength gains and endurance improvements, the use of Wireless USA aims to provide athletes and fitness enthusiasts with an intelligent tool to supercharge their performance and help prevent future injuries. According to the company's media release, the device recruits specific motor nerves by targeting muscle fibers that cannot be reached through traditional workouts and training.
The release further notes that Wireless USA sends electronic pulses to nerve fibers through a small device to create involuntary muscle contractions and maximize muscular effort by reaching up to 100% of muscle fibers – both Type 1 slow twitch muscle (endurance) and Type 2 fast twitch muscle (power and explosiveness) – resulting in maximum efficiency with maximum results. The device features nine different programs, including strength, endurance, potentiation, resistance, explosive strength, training recovery, competition recovery, pre-warm-up, and muscle relaxation, and five levels of progression to keep athletes challenged with every training session.
Wireless USA devices retail for $1,149 and will be available online and at select retailers beginning in July, according to DJO's media release.