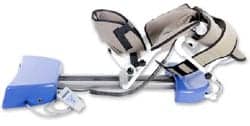 Better Life Devices Corp markets a continuous passive motion machine engineered for use in range of motion (ROM) therapy during rehabilitation. The Knee CPM with TENS integrates a TENS unit to promote pain relief and muscle stimulation.
The company also notes that both the calf and thigh length of the unit are adjustable to meet each user's individual needs.
The FDA-approved product features a remote control, and its extension angle can be adjusted from 10 to 120 degrees. The TENS offers a Symm. Biphasic Square waveform and pulse widths of 200 and 250, and 50 Hz and 150 Hz pulse rates.
The product's seven segment digital display is designed to allow the user to adjust intensity levels from zero to 50, hold times from zero to 10 seconds, and treatment times from one to 60 minutes.
For more information visit www.betterlifedevices.com
[Source(s): Rehabmart.com, Better Life Devices]