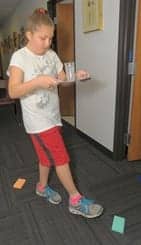 The Sensory Processing Disorder (SPD) Foundation reports that it is now beginning to offer workshops nationwide designed to train therapists in the administration of "Goal-Oriented Assessment of Lifeskills" (GOAL). The new evaluation is intended to assess the functional motor abilities needed for daily living in children aged 7 to 17 years old.
The first workshop was reportedly conducted on December 9 in St. Johns, Michigan. During the workshop, attendees complete activities in breakout groups while learning to administer and score the evaluation. A news release from the foundation states that each activity is linked to Intervention Targets that assist therapists in turning assessment results into specific, goal-oriented treatment plans.
According to the SPD Foundation, GOAL can be used in clinics, schools, hospitals, and private practice. While primarily intended for occupational therapists, physical therapists, psychologists, and other childhood intervention specialists can also use the evaluation. This workshop offers step-by-step instruction for administration and scoring of each item in the GOAL.
In 45 to 60 minutes, children with developmental delays in any of the five domains defined by the Individuals with Disabilities Education Act (IDEA) can be identified, informing the planning of occupational therapy, physical therapy, and/or adaptive physical education.
The foundation notes that it is creating the plan and schedule to conduct these workshops nationwide in 2014. For more information about attending or hosting a workshop, contact Susanne Geiler at [email protected]
Photo Credit: SPD Foundation
Source: SPD Foundation