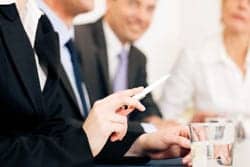 The Motor Press Guild (MPG), a North American-based automotive media association, is slated to host a panel which will address how the mobility industry works, the significant increase in need for mobility vans, of the importance of these vehicles, and how the mobility retail channel differs from conventional car dealerships. According to a recent news release, the panel will be held during a June 11 luncheon at the Proud Bird Restaurant in Los Angeles.
Presenters scheduled during the event include Doug Eaton, president and CEO, Vantage Mobility International (VMI); Mark Oldenburg, Toyota national fleet marketing, mobility and strategic planning manager; Enrique Cruz, Paralyzed Veterans of America; and Mo Abusham, Southern California Mobility Dealer.
The release notes that the event will emphasize the industry's increasing link to independence for the growing number of wheelchair users who are returning soldiers from overseas or family members with a disability. Many companies within the industry are currently manufacturing thousands of mobility vehicles each year to meet this growing need, the release reports.
The MPG states that it is an exclusive, non-profit organization dedicated to upholding the highest ideals in automotive journalism and promoting education and information exchange within the motoring press
For more information, contact Scott Black at (214) 566-6458 or [email protected]
Source: TimePiece Public Relations