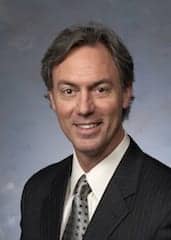 Scott Schneider, chief marketing officer and regional president of North America for Ottobock, (pictured right) has been elected to the Board of Directors for the American Orthotic & Prosthetic Association (AOPA), according to a news release from the Minneapolis-based prosthetic and orthotic manufacturer. Schneider has been elected to a 3-year term on the AOPA Board and will serve in the position of supplier director. Ottobock notes that Schneider officially took office on December 1.
Schneider brings a variety of accomplishments and experience to his position on the board, including serving as co-founder of TEC Interface Systems. During his tenure with the company, it reportedly won 1995 the Small Business of the Year award from the US Small Business Administration, and won the 2002 Ernst and Young Entrepreneur of the Year regional award and was inducted into its hall of fame. Ottobock reports that Schneider attended St. Johns University, St. Cloud State, and University of Minnesota, placing a primary focus on medical and prosthetic care as well as journalism, mass communications, and business.
The company adds that following the acquisition of TEC Interface Systems, Schneider came to Ottobock and served in a range of capacities, both in Ottobock's global headquarters in Germany and at Ottobock North America.
Schneider calls the AOPA the leading voice for the orthotics and prosthetics industry, adding, "Its dedication to improving access to and coverage of O&P services in all health care settings is especially admirable, and I am honored to have been chose to serve in a capacity that holds the opportunity to directly impact quality of life," Schneider says.
[Source: Ottobock]