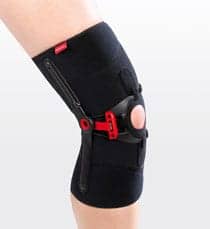 Ottobock, headquartered in Minneapolis, has announced the release of its Patella PRO orthosis, designed to address anterior knee pain and patellofemoral pain syndrome. The soft brace is intended to function and support the patella in flexion.
The product features spring-loaded pull straps in order to provide users additional pressure on the patella when dislocation occurs, preventing patella subluxation and dislocation.
The company also notes that the Patella PRO uses materials designed to ensure fit, breathability, and migration control. This includes flexible nylon uprights intended to contour to the user's anatomy. Ottobock adds that the flexible material also accommodates severe lateral offsets and large Q-angles common with patellofemoral patients and aims to facilitate quick fittings in clinic settings.
For more information, visit www.ottobockus.com
[Source: Ottobock]