The StandUp Walker, introduced in 2016 by Charlotte, NC-headquartered URise Products LLC, received its third industry honor recently, by being named the Gold winner in the New Product Pavilion at Medtrade 2016.
The other awards the product received are the HME Business 2016 New Product Award (Retail category) and Aging 2.0's Pitch-4-Partners Award.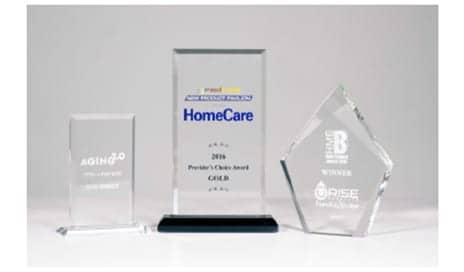 "This recognition from both home medical equipment professionals as well as from experts in aging demonstrate the real need for innovative mobility products that help people stay independent," says Kenneth C. Paulus, CEO of URise Products LLC, in a media release.
The StandUp Walker is a 2-in-1 Stand-Assist + Mobility Walker that enables the user to independently lift themselves from a seated position easily and safely. It weighs 10.5 pounds, holds up to 400 pounds, and collapses for transport.
"StandUp Walker combines a static device that helps you get up with a walker that assists you getting around," Paulus explains in the release.
"When someone has difficulty in standing up, it can cost several thousand dollars to equip the home with bars, toilet seat risers, and a lift chair. StandUp Walker can replace all those items and has the added benefit of being able to take it outside the home," he adds.
[Source: URise Products LLC]