The US Food and Drug Administration (FDA) has cleared the UPnRIDE robotic standing wheelchair for marketing and use in the United States, UPnRIDE Robotics Ltd announces in a media release.
"The approval of our UPnRIDE standing wheelchair is another very important milestone in our mission to offer health benefits and improved quality of life to millions of people suffering from walking impairments," says Dr Amit Goffer, founder and president of UPnRIDE Robotics Ltd.
Goffer, who is himself a quadriplegic, also invented the ReWalk wearable robotic exoskeleton, designed to enable people with spinal cord injury to stand upright and walk.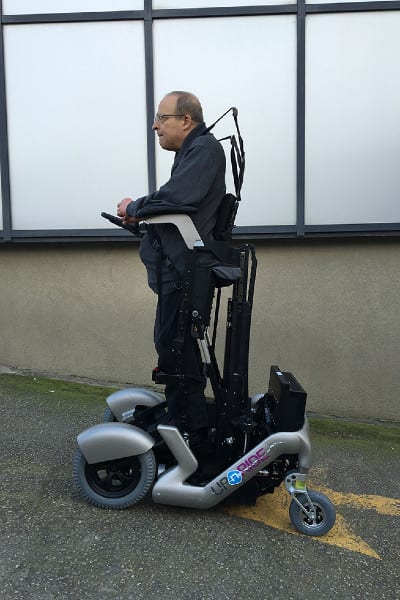 The UPnRIDE standing wheelchair is engineered to provide users with full, safe, functional mobility in a standing position, in practically any urban environment, both indoors and outdoors. It is designed to be suitable for most wheelchair users, including paraplegics, quadriplegics, the elderly and those with MS, ALS, CP, stroke, TBI, and other conditions that limit physical movement, the release continues.
"Empowered by the FDA approval, UPnRIDE Robotics will now develop a distribution and service center network in the US to enable American users to benefit from this innovative product," states Oren Tamari, CEO of Israel-based UPnRIDE Robotics Ltd.
"By enabling upright mobility, UPnRIDE delivers numerous health, economic and societal benefits. It reduces the visibility of the disability, providing wheelchair users with a fresh, new perspective on the world, on themselves, and on life," Tamari adds.
[Source(s): UPnRIDE Robotics Ltd, Business Wire]