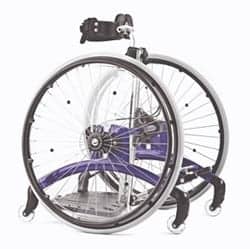 A pediatric stander available through Snug Seat Inc, Matthews, NC, is designed to offer security and eased adjustability to users. The Rabbit aims to provide pediatric users with the opportunity to explore, and to promote development of motor skills through exercise. The product is also intended to help redevelop muscles and restore motions to joints.
The company notes that the Rabbit's accessible and simple design targets maximum mobility for users in the standing position. The footplate can also be positioned closer to the floor, to ensure easy placement and positioning of the user.
The Rabbit is marketed in four sizes and can accommodate children between the ages of 1 and 18 years. The company notes that its product also features an angle adjustable center bar, quick release wheels, and central lock system for steady and secure transfer.
For more information visit www.snugseat.com
[Source: Snug Seat Inc]