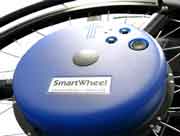 A clinical tool engineered to examine manual wheelchair use by analyzing each push on the hand rim is available through Out-Front, Mesa, Ariz. The SmartWheel offers the ability to create automated reports to allow therapists to optimize wheelchair setup and push style to reduce repetitive stress.
The device is intended to measure push forces, push frequency, push length, push smoothness, and speed. The SmartWheel is available in 22-inch, 24-inch, 25-inch, or 26-inch sizes. The company notes that its product also has FCC, CE, and FDA (Class I) approvals.
The device aims to reduce incidence of pain and injury in users and provide data to clinicians for wheelchair evaluation, equipment justification, and skills training. Users also have access to a frequently updated database of wheelchair propulsion assessments, the company reports.
For more information, visit www.out-front.com.
[Source: Out-Front]