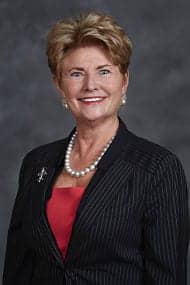 Sally Gammon, FACHE, president and CEO of the Allentown, Pa-based Good Shepherd Rehabilitation Network, has announced her plans to retire in 2013. Gammon notes in a recent news release that she intends to remain involved with the organization and the local community after her retirement. According to the release, Gammon joined Good Shepherd in 1997 and has since led the organization in its evolution from a local rehabilitation provider and home for individuals with disabilities to a post-acute care health system, garnering recognition and multiple awards during her tenure.
At the start of her professional career, Gammon, who holds a bachelor's degree in physical therapy from the University of Connecticut and an MBA from Rivier College, served as a physical therapist for the State of Connecticut and at the Easter Seals Rehabilitation Center in Manchester, NH. Gammon eventually became director of physical therapy for the organization, Good Shepherd notes. Gammon was then appointed as administrator of The Easter Seals Rehabilitation Center of Southern New Hampshire, and then to vice president of fiscal affairs at Easter Seals Society/Goodwill Industries of New Hampshire/Vermont Inc. According to Good Shepherd, Gammon later served as the organization's CFO and vice president of fiscal affairs.
Gammon also served as division director of oncology, rehabilitation and orthopedics at Health Northeast/Elliot Hospital in Manchester. Prior to her tenure at Good Shepherd, Gammon was president and CEO of The Rehabilitation Center of Fairfield County in Bridgeport, Conn, the release reports.
Under Gammon's leadership, Good Shepherd reports that it has quadrupled in size and budget and has expanded its scope of services, growing from a $45 million organization to a $201 million organization. Gammon's vision has helped Good Shepherd expand to include a licensed long-term acute care hospital for critically ill patients, and to operate inpatient rehabilitation facilities at Easton Hospital, Pocono Medical Center, and Wayne Memorial Hospital in Wayne, Pa, says the release.
The organization also notes that it operates a long-term facility for the severely disabled in Bethlehem, opened a 16-bed Pediatric Unit in Bethlehem in 2009, and that its outpatient centers have grown from four locations to 21 locations in seven counties. Additionally, Gammon provided leadership during the creation of Good Shepherd Penn Partners and serves as chair of the Good Shepherd Penn Partners Board of Trustees, the release adds.Good Shepherd Penn Partners, a joint venture between Good Shepherd Rehabilitation Network and Penn Medicine in Philadelphia, found its start in July 2008. Good Shepherd serves as majority owner, and manages and provides inpatient and outpatient post-acute care for Penn Medicine.
The release reports that, alongside the Good Shepherd Board of Trustees, Gammon facilitated a $40-million capital campaign, which supported the multiyear transformation of Good Shepherd's south Allentown campus dedicated in 2006.The campus includes a high technology apartment building, a parking deck, healing gardens, and the Good Shepherd Health & Technology Center.
Good Shepherd adds that its Board of Trustees has now commenced a search for the organization's next president and CEO.
[Source: Good Shepherd Rehabilitation Network]