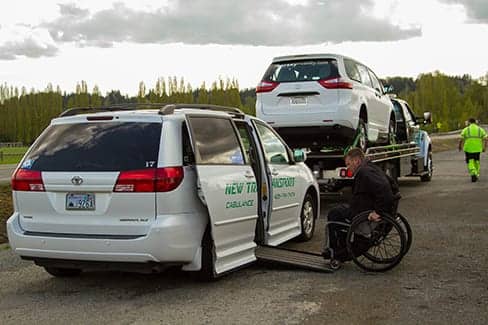 Vantage Mobility International (VMI) introduces the VMI Assurance Program, a specialized roadside assistance and at-home service program for wheelchair users to help keep drivers of wheelchair-accessible vehicles safe while they're out on the road.
Many roadside service or repair companies aren't typically equipped to assist people with mobility challenges and their accessible vehicles, creating a dangerous situation while the disabled person is stuck on the side of the road waiting for a ride.
To address this problem, VMI delivers this exclusive solution in partnership with Mobility Roadside Assistance (MRA) and at-home service provided by Wrench Inc.
According to Phoenix-based VMI in a media release, it will provide 1 year of complimentary roadside assistance for customers who purchase a new or used vehicle with a new conversion from VMI, AMS Vans or Revability. In addition to taking care of the vehicle, MRA will also assist the driver and passengers with paratransit service, ensuring they don't end up stranded on the side of the road.
Once the vehicle and owner are transported to a safe location, Wrench Inc mobile mechanics will dispatch certified automotive technicians to the customer's home, office, or other location to complete the repairs and get their vehicle back on the road again.
MRA's specialized service also includes troubleshooting with a mobility technician, service for the accessible vehicle's wheelchair lift or ramp, as well as tire repair and/or replacement. MRA will also provide all the standard roadside services such as towing, vehicle jump starts, emergency fuel, and vehicle lockouts.
"This partnership furthers VMI's commitment to empower people with disabilities by giving them more options and greater confidence to live an independent lifestyle," says Mark Shaughnessy, CEO of VMI, in the release.
VMI/AMS Vans/Revability customers will also receive MRA's roadside assistance membership for one year, which includes a personal MRA ID card and access to all the benefits at no cost to them.
VMI will begin rollout of the VMI Assurance program in July, beginning with its Signature Dealer Network, it notes in the release.
"Combining VMI's products with our growing service-based platforms, we will be able to offer Mobility Roadside Assistance to an even greater number of families, individuals, veterans, and businesses that deserve our very best in service," states Jim Speer, founder at MRA.
"As a disabled veteran myself, I heard at the Seattle VA hospital from fellow veterans about their concern of being left on the side of the road when they used their emergency roadside service. I knew then that there was a need for this type of service we've created. Knowing we have their backs will allow so many to pursue their dream of mobility freedom with their very own accessible vehicle."
"Our mobile mechanics are available to provide service on location, 7 days a week," shares Edward Petersen, co-founder and CEO at Wrench.com.
"We are full-service auto experts and our certified technicians will perform most maintenance and repair services right in the customer's driveway or a safe location for the mechanic in the environment where the vehicle is parked. Our goal is to give customers the freedom to go about their day, tending to more important things. We are thrilled to partner with VMI and bring this extra sense of mobility freedom to its customers," he adds.
[Source: Vantage Mobility International]