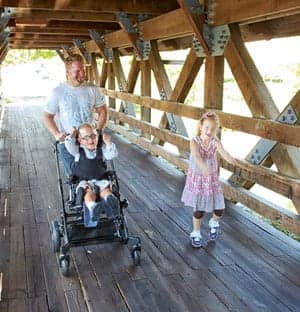 A third-generation pediatric stroller base marketed by Ottobock, Minneapolis, recently received a variety of updates and upgrades. The Kimba Neo features adjustable rear suspension tension settings customized to meet each user's individual needs and designed to ensure a smooth, stable ride.
The product also features an improved folding mechanism intended to ease transport and storage. The Kimba Neo offers users an increased weight capacity of 10%, up to 121 pounds, according to Ottobock. The frame design is now available in silver and black. Users may also benefit for the product's tilt mechanism for simple tilting of the seating system and larger rear wheels engineered to ease maneuvering over rough terrain.
Ottobock notes that the Kimba line of mobility bases and seating systems target the support of children at home, school, and in community settings.
For more information, visit www.ottobockus.com.
[Source: Ottobock]