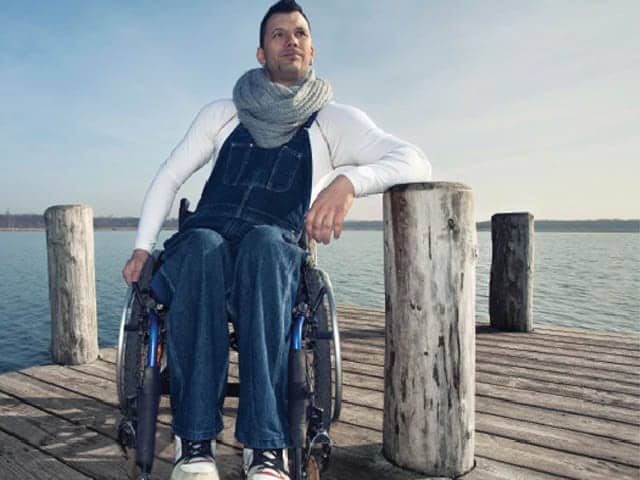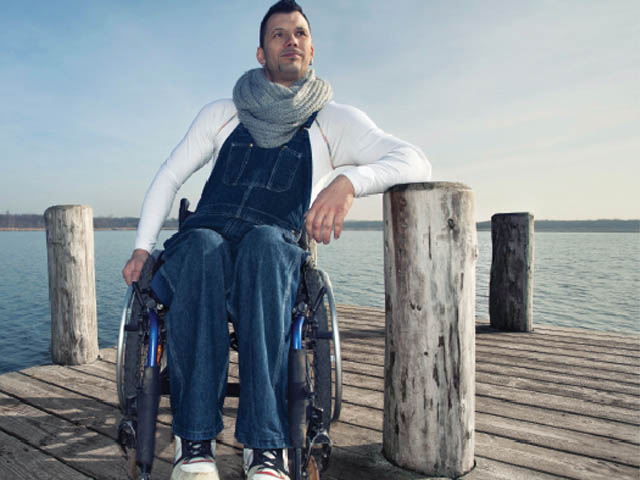 Part 1 of a 2-part update of mobility technologies in 2014
by Laura S. Wehrli, PT, DPT, ATP, and Joe Fangman, MSPT
Prior to the 1980s, there were few choices in manual wheelchair type or configuration for a patient with a spinal cord injury. Upright vs reclining? Sixteen vs 18 inches wide? Red upholstery or blue? Wheelchairs were made of steel and weighed upward of 40 pounds. Sling upholstery seats and backrests comprised the standard seating system. Those who used a wheelchair full-time did their best to maneuver these heavy machines, but not without a cost to their postural tendencies, shoulder integrity, and quality of life.
For years, therapists and patients alike did the best they could with the seating and mobility technology available. Many credit Marilyn Hamilton, a young, athletic woman injured in a hang gliding accident in 1979, with designing one of the first "ultralight" wheelchairs with hang gliding friends in California. Over the last 35 years, wheelchairs have evolved technologically in response to the aeronautic and bicycling industries. We continue to use research, clinical experience, and constantly advancing technology to refine manual mobility options and add-ons.
In 2005, the Clinical Practice Guidelines for Preserving Upper Limb Function were published by the Consortium for Spinal Cord Medicine. The focus, of course, was to preserve upper extremity function and limit pain, but the guidelines also provided clinicians with a valuable compilation of research articles identifying optimal push mechanics, ideal posture, and the recommended wheelchair configuration for those using wheelchairs for most of their mobility.  Admittedly, these guidelines are due for an update, but they continue to provide helpful clinical pearls for seating and positioning.
The guidelines instruct clinicians to:
• "Provide manual wheelchair users with spinal cord injury a high strength, fully customizable manual wheelchair made of the lightest possible material."
• "Adjust the rear axle as far forward as possible without compromising the stability of the user."
• "Position the rear axle so that when the hand is placed at the top dead-center position on the pushrim, the angle between the upper arm and forearm is between 100 and 120 degrees."
Full-time manual wheelchair users perform an estimated 2,000-3,000 push strokes per day. Most of these consumers complain of some type of upper extremity pain. Ultralightweight wheelchairs, designated "K0005" by the Healthcare Common Procedure Coding System (HCPCS) used by the Centers for Medicare and Medicaid Services (CMS), weigh less than 30 pounds and are defined by the presence of an adjustable rear axle position. Adjusting the rear axle forward positions the majority of the user's body weight over the larger rear tire, decreasing rolling resistance and minimizing the forces applied through the shoulder joint. Additionally, proper vertical adjustment of the rear axle can decrease stroke frequency and increase hand access to the pushrim, thus increasing the efficiency of each push stroke. Ultralightweight wheelchairs tend to be made of the lightest materials, are most adjustable, and are more durable than other classes of wheelchairs.
Therefore, a K0005 wheelchair is absolutely necessary to provide optimal push mechanics and minimize wear and tear on the upper limb for full-time wheelchair users.
To Fold or Not to Fold
Ultralightweight wheelchairs are now available in folding and rigid frames. Folding frames allow the chair to be collapsed in the horizontal plane for easy storage without removing multiple components. Forty years ago, a folding frame was the only option, but these tend to be heavy and less efficient to propel. Now, rigid frame wheelchairs increase push efficiency by maintaining horizontal frame rigidity, which allows the user's push forces to be applied to forward motion rather than wasted in frame flexibility. Removal of components such as wheels, armrests, and weather guards may be necessary for optimal storage or loading into a car.
Material World                       (Carmen DiGiovine, 2006)
Mild steel and steel alloys are still used in "depot" or standard hospital wheelchairs. Steel is cheap and easy to machine and weld.  However, steel has a low strength-to-weight ratio and is less durable and much heavier than aluminum alloys used in ultralight wheelchairs.
The two most common types of aluminum used in ultralight wheelchairs today are aircraft grade (6160), known as "6000 series" aluminum, and high performance (7075) or "7000 series" aluminum. Both offer higher strength-to-weight ratios than steel and are less expensive than more glamorous materials such as titanium and carbon fiber.
Use of titanium in wheelchair frames peaked in the early 2000s, driven by its higher strength ratio, vibration-dampening qualities, low maintenance, and sleek appearance. Nonetheless, costs of the material and manufacturing compared to reimbursement available in the medical market have all but eliminated titanium from the insurance-reimbursable wheelchair market in the private sector. Using thinner walled aluminum has made some frame weights competitive with titanium frames. However, durability could become an issue given the lesser strength-to-weight ratio of aluminum as compared to titanium.
The most glamorous material in the wheelchair and bicycling market today is carbon fiber. Carbon fiber boasts a very high strength-to-weight ratio and can be configured to be stiff and reactive, but also flexible. As can be expected, there are downsides to this sexy, sleek material. It can only be molded, not bent like aluminum, and cannot withstand boring of holes for adjustment or attachment of components without losing its integrity. Therefore, adjustability of fully carbon-fiber wheelchairs is impossible and customization is incredibly expensive. In addition, if it impacts another object or the ground, a small fracture in the carbon fiber predisposes the frame to complete failure. Consequently, carbon fiber is more commonly seen in components rather than full carbon fiber wheelchair frames.
Sitting Pretty
Another sign of technological advancement in manual mobility is the plethora of after-market cushions and backrests available today composed of ever-advancing materials. Foam cushions may be single density foam or may use varying densities of foam to decrease pressures under vulnerable areas. Advances in foam technology have caused clinicians to reconsider them for more than just "general use." Cushions with fluid or air "wells" are engineered to submerse the vulnerable ischial tuberosities in gel or air while allowing weight-bearing through more tolerant areas such as the thighs. The amount and type of gel used have changed over time, resulting in lighter gel-well cushions. Air-filled cushions use immersion principles to distribute pressures across the entire weight-bearing surface in order to decrease peak pressures under the ischials, greater trochanters, and coccyx. The relatively new off-loading technology is available in custom cushions where tolerant areas such as the thighs and gluteal muscles bear all the sitting forces while an ischial well and trochanteric contours allow these boney structures to be completely off-loaded. Off-loading also allows more air exchange, preventing moisture-driven skin breakdown. Custom cushions are usually considered for those who have persistent postural deviations and have tried but not had success with off-the-shelf foam, air, or gel.
There is no "best" cushion on the market. Each user contributes unique variables that dictate whether a cushion will work well for them. These variables include but are not limited to activity level, ability to self-weight shift, nutritional status, amount of muscle atrophy, presence or absence of spasticity, moisture from sweating or incontinence, postural asymmetries, etc.
Although a solid backrest tends to be heavier than sling upholstery, the positioning benefit may be worth its weight. A well-positioned backrest can provide posterior pelvic and lumbar support, which allows a flexible spine to achieve a more upright position, thus preventing coccygeal loading and persistent (and costly) skin breakdown. Additionally, various heights and contoured backrests are now available to meet the needs of consumers with postural asymmetries due to orthopedic or neurologic deficits. Over the years, solid backrests have been refined from metals with steel hardware to aluminum and carbon fiber with composite hardware. The ideal backrest for a given consumer is one that allows for functional mobility within the seating system, provides appropriate support for upright resting posture via adjustable features, and contributes the least amount of weight to the system.
A Little Help
One of the most exciting advances in manual wheelchair technology is the development of add-on components for manual chairs. Many of these add-on accessories have and are being invented and brought to market by end users themselves. The goal of many of these products is to decrease the effort and repetitive nature of pushing the manual wheelchair to improve efficiency and enhance upper extremity preservation. These add-ons include, but are not limited to:
Pushrim activated power assist wheels (PAPAW) provide power through the hub of the manual wheelchair and then are activated through the pushrim to provide assistance to the user during the push cycle. The amount of assistance each stroke provides can usually be programmed for each user.
Lever drive systems change the mechanics by which the chair is pushed and slowed, using a lever that mounts to the wheel of the manual wheelchair. Gearing ratios can be changed to decrease force needed to push the manual wheelchair.
Joystick-driven power add-ons are also among the latest technologies. They are designed to mount to the frame of existing manual wheelchairs and have a joystick-driven motor component that allows the manual chair to function as a power chair.
Today, users benefit from seemingly limitless options for wheeled mobility thanks to technological advances in frame design, materials, seating, power assist devices, and electronics. There is no "best" overall wheelchair, cushion, back, or add-on on the market since each person contributes unique variables that dictate whether an item will work well for them. Therefore, the true challenge lies with clinicians to stay up-to-date on available seating and mobility options, so that they may provide adequate education and appropriate trials of these items for their clients. RM
Laura S. Wehrli, PT, DPT, ATP, is the Physical Therapy Supervisor in SCI rehab at Craig Hospital near Denver. She is also the President of the Therapy Leadership Council of the Academy of Spinal Cord Injury Professionals (ASCIP) and a presenter with SCI Seminars Inc, www.sciseminars.com.
Joe Fangman, MSPT, is an inpatient physical therapist in SCI rehab at Craig Hospital. For more information, contact [email protected].