photo caption: Patient utilizes anterior tilt to work on canvas for her upcoming art show. (Photo courtesy of Kevin Hentz.)
by Meredith Linden, PT, DPT, ATP/SMS
The complex rehabilitation technology industry continues to evolve as technologies improve, clients become more involved in their personal care, and as the seating and mobility team becomes more educated about the long-term effects of using wheeled mobility. This article reviews emerging trends for manual and power mobility prescription for adults with spinal cord injury and highlights the features that prove to be beneficial and preferable to these clients.
Manual Wheelchair Material
In this day and age, it is hard to imagine that wheelchairs were once made out of wood. A wheelchair was not designed for the patient to propel. Consideration of materials would long yet be of interest in the days of King Phillip II of Spain, one of the first known persons depicted in a wheelchair, in 1595. Today, manual wheelchairs come in many different materials, none of which are wood, and when able the goal is user independence.
Aluminum is a commonly prescribed frame material for wheelchairs as aluminum is lightweight and cheaper than titanium and carbon fiber. When titanium became available, it quickly rose in popularity due to its weight savings and vibration-dampening qualities. With titanium came a higher price tag, though, and therefore manufacturers developed the 7000-series aluminum, which is comparable in weight to that of titanium and considerably less expensive. The 7000-series aluminum is stronger than its predecessor, allowing a decrease in thickness of the tubing wall and therefore weight savings.
If weight is comparable, how does the end user determine the material that is best for them? Materials have different qualities that distinguish them from one another beyond weight. For instance, titanium dampens the vibrations transmitted to the end user better than aluminum. Therefore, titanium results in less potential for injury to the upper extremities over time. However, the stiffness that aluminum achieves ensures the greatest carryover of power into propulsion. Enter carbon fiber! Carbon fiber is becoming increasingly more popular and available to the end user. Private insurers are beginning to cover this material, and clients are investing their personal funds as they prioritize their mobility goals. Carbon fiber is considerably lighter than aluminum and titanium, shares the shock-absorption qualities of titanium, and can be customized to maximize the strength of the frame to meet the needs of the user. Thus, carbon fiber has become more widespread and available than in the past.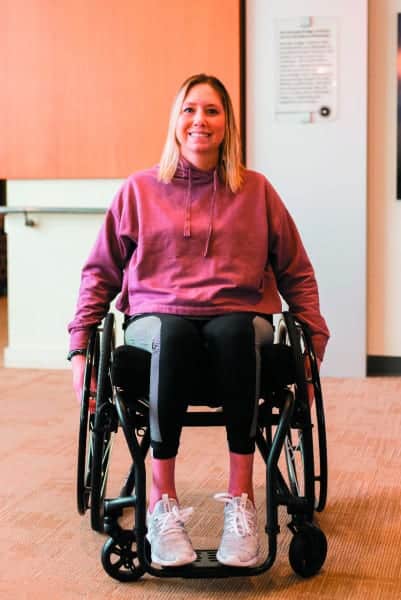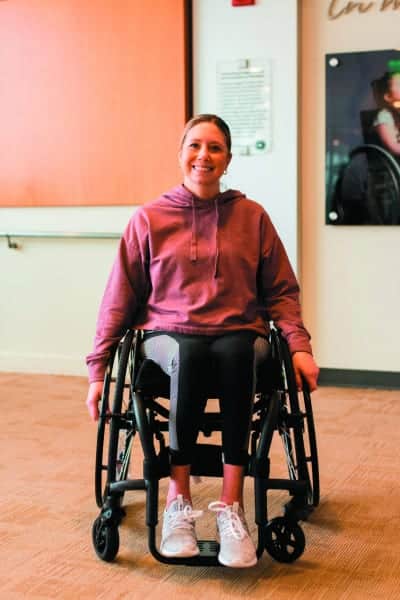 Manual Wheelchair Configuration
The weight savings associated with aluminum, titanium, and carbon fiber have little value if the manual wheelchair is not configured to meet the client's individual needs. Providers are emphasizing the value of customizing the wheelchair to fit the end user like an extension of their body, similarly to principles applied to orthotics and prosthetics. Long live the days of automatically adding 2 inches of width and depth to the frame, to accommodate for growth and weight gain, without consideration of upper extremity position or the implications for accessibility and mobility.
Many manufacturers offer the ability to customize frame length. A person may choose to extend their frame length by 1 inch to reduce front loading on the casters while achieving forward position of the rear wheels. This ensures optimal efficiency, maneuverability, and safety, and reduces risk for upper extremity injury by positioning the rear axle under the shoulder joint.
In addition to tailoring the frame length to meet the client's preferences and mobility needs, clients are requesting compact frame widths to reduce their overall footprint and reduce the visibility of their frame. New emphasis is placed on seeing the client first before seeing the wheelchair they are seated in. A person who measures 16 inches wide may receive a wheelchair that is 16 inches wide, rather than 18 inches wide, per old standards. The many benefits of reducing the width of the frame include improved alignment of the shoulder joints by reducing humeral abduction, improved accessibility within the home and community, and reduced weight of the wheelchair.
Other customizable features of ultra-lightweight manual wheelchair configuration include rear wheel adjustment in the vertical and horizontal planes and rear wheel camber. A forward position of the axle is preferred as it reduces rolling resistance, allows for easier navigation and propulsion efficiency, and reduces the risk of upper extremity strain. Vertical plane adjustment of the rear wheel enables tailoring of the seat height. Optimization of the horizontal and vertical axle position guarantees the client maximizes contact with the rim, thereby achieving powerful propulsion with fewer strokes. Clients are also choosing to increase the camber of the rear wheels for improved maneuverability by bringing the rim closer to their body. Preference to reduce frame width affords the end user the opportunity to increase the camber without compromising accessibility.
Due to the number of ways which a manual wheelchair frame can be customized to fit the client, it is imperative that the end user is actively involved in their wheelchair prescription. The modern end user has the benefit of exploring the Internet and is educated about their options and preferences prior to attending seating clinic.
Power Wheelchair Configuration
Power wheelchair bases include one of three configurations: mid-wheel drive, front-wheel drive, or rear-wheel drive. One decade ago, the recommended wheelchair manufacturer was largely based on the client's drive configuration needs. There was a company that specialized in front wheel drive, one that specialized in mid-wheel drive, and so on. Today most manufacturers are making all three configurations for the consumer to choose from.
Competition drives ingenuity! As able, the client should trial different manufacturers' power bases to determine the wheelchair that best suits their needs. Rear-wheel drive configurations are recommended for clients living in urban environments. However, they have an expansive footprint and a large turning radius, which is not ideal in all settings. Mid-wheel drive power bases are the most maneuverable due to their small turning radius, though they do not thrive in the outdoor environment as does a front-wheel drive base. The location of the large drive wheels of a front-wheel drive base makes it a wonderful option for traversing the outdoors, though turning 360 degrees is difficult due to the large back end. Clinics should work with their manufacturer representatives to obtain demo equipment so that the patient can make the most informed decision as new options have become available and the drive experience of each manufacturer's base differs.
Power Wheelchair Seating
Power tilt-in-space, recline, and elevating/articulating foot platforms have long been available. Industry leaders, including the Paralyzed Veterans of America (PVA) and the Rehab Engineering Society of North America (RESNA), provide documents demonstrating the medical necessity of these features including improving client safety, improving pressure distribution to the body thereby reducing risk of skin breakdown, minimizing joint contractures, etc. For an adult with a spinal cord injury, the standard recommendation often includes all three of these features, as research shows that use of these functions together enhances the patient's benefit. For example, combined use of power tilt-in-space and recline achieves greater pressure reduction than either feature alone.
In addition to power tilt, recline, and elevating/articulating foot platforms, seat elevators have improved significantly over time. A person can achieve a taller stature while remaining in their wheelchair in order to improve ease and safety of transfers, remain visible to the people in their surroundings, and have greater access to their environment. Technologies have improved tremendously, including the ability to elevate while driving as well as to maintain a functional speed in the elevated position. Consumers are pushing their insurers to fund this technology due to the tremendous value it affords their daily life.
There is also a drive to achieve power anterior tilt and standing in the seating system. Combined anterior tilt and seat elevate reduce obstruction in front of the client when accessing their environment (including closets, cabinets, etc). This feature is not readily available from all bases but is becoming increasingly more accessible as manufacturers update their technology. Similarly, power standing is now available on multiple different power wheelchair bases. Increased availability allows for the client to choose the system that best meets their individual needs. Previously, power standing wheelchairs were only available in front wheel drive, which may have been a deterrent to the end user that requires a small turning radius. This is no longer the case as they are now available on mid-wheelchair drive bases.
Miscellaneous Power Wheelchair Technology
Power seating technology has also expanded to include pressure relief reminders, memory seating, improved suspension systems, and improved tracking technologies. Improved suspension systems absorb and reduce vibration transmitted when traversing over uneven or rough terrain. This is particularly important to the client utilizing alternative drive controls. The reduction in shaking of the system ensures access to the drive control without risk for displacement, and thus greater independence.
Other capabilities include improved lighting packages and integration with smart technologies. Bluetooth capabilities have become standard, as have USB ports, for charging and accessing technology from the wheelchair. This allows for control of many other devices within the home and office. At delivery of power equipment, the modern seating clinic should include training about access to the user's smart technologies and their environment. This ensures that they can utilize their equipment to the maximum potential.
Conclusion
Manual and power wheelchair prescription for spinal cord injury continues to evolve as technologies improve. Additionally, greater access to information ensures that clients are better educated about available technologies. Clinics should embrace their client's knowledge, and together with the team, create a mobility system that pushes the limits to maximize the existing technology and improve lives. RM
Meredith Linden, PT, DPT, ATP/SMS, is a clinical specialist at the International Center for Spinal Cord Injury at Kennedy Krieger Institute in Baltimore. She received her Bachelor of Science and Bachelor of Health Sciences in 2006 and her Doctorate of Physical Therapy in 2008 from Duquesne University in Pittsburgh. Linden has been a certified assistive technology professional since 2011 and a certified seating and mobility specialist since 2015. For more information, contact [email protected].
This article was published in the March 2020 print edition of Rehab Management under the title Satisfied with the Ride.
Control Unlimited
Wheelchair user independence grows as control systems become smarter and smaller
by Frank Long, MS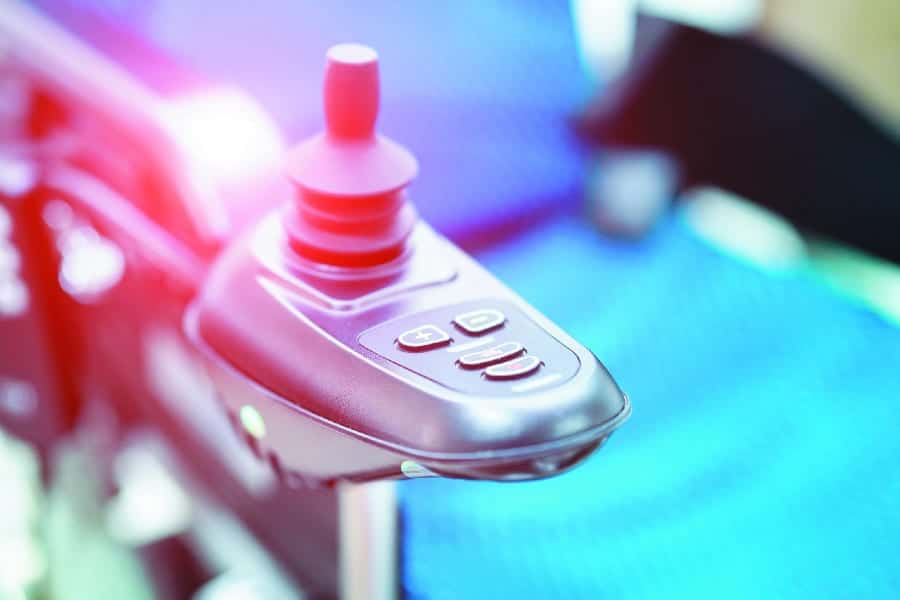 While it may be some time before an affordable thought-controlled wheelchair actually materializes, the science behind more accessible power mobility technology continues to advance at a lightning pace. Nowhere is this more evident than the user control systems emerging among power mobility devices on the current market. With each revision cycle these systems become smaller and more powerful; more intuitive and easier to operate—placing control of the device where it is easiest for the operator to use. To help readers keep their finger on the pulse of these rapidly developing technologies, Rehab Management offers this product update and puts a spotlight on integration solutions that quickly transform the user's wish into the wheelchair's command.
Input is Everything
The interface between the wheelchair user and its mechanical components is the heartbeat of any power mobility solution. A long-standing favorite among these device interfaces has been the joystick controller. However, not all who use a power chair can operate a joystick due to muscle weakness, restricted movement, limb difference, or amputation. For these individuals an alternative drive system built around a chin joystick, head array, or sip-n-puff system may be needed.
Joystick sizes for mobility devices have been reduced to "micro" and "mini" dimensions that offer exceptional sensitivity for individuals whose muscle power or movement is significantly diminished. These downsized joysticks can provide precise proportional control with a choice of grip, cone, or tip handle. Some manufacturers also build joysticks that have the structural strength to withstand excessive force, allowing them to be foot-operated Conversely, some mushroom-style joysticks are engineered to amplify a user who may only be able to apply minimal force, making this type of joystick a viable hand-control option for individuals whose grasp may have significant limitations.
Head arrays, too, have evolved into curved designs that provide an ergonomic fit that places controls within the user's natural reach. These curved arrays are available to fit standard and large profiles and can be used with a variety of mounts including head position swing away, arms swing away, and bib mounts. For individuals who may have low head control, fiber optic proximity sensors are a technology that can provide another control option via a tray device.
Integrated Control
Joysticks and other user hardware can be integrated with a central processing unit to make power wheelchair controls integrated and configurable. This technology allows users to interact with complex power wheelchair solutions virtually in real time. The integrated systems include advanced programming software that offer conveniences such as double tap timing, the ability to mix switches and inputs, mode selection, switch channel assignment, and more.
Artificial intelligence (AI), too, is leaving its fingerprints on power wheelchairs. At the leading edge are "smart wheelchairs" that use neural networks to detect obstacles and make split-second navigation decisions. Data for those devices can be generated by joystick input, sonar sensors, and rule-based approaches.
Some of the most exotic options for user control are being put through their paces in mobility markets throughout the world. For example, Intel reportedly has partnered with a Sao Paulo, Brazil-based robotics company to bring technology to market that allows a power wheelchair user to control the device using 10 different facial expressions, from a kiss to full smile to sticking out the tongue.1 The system uses a heavy mix of facial recognition software and AI to process the differences in expression and direct the wheelchair accordingly.
Advances in drive control research have also been logged by a team of Tunisia-based researchers, who have leveraged the falling cost of electronic processors and sensors to develop a system that visually recognizes hand gestures.2 The technology aims to be a hands-free solution for individuals affected by severe upper extremity impairment. One population the researchers say this technology could help serve are those who are affected by dystonia and may have a cramped posture of the hands. Other populations that could take advantage of the camera-based system are quadriplegics, the elderly with muscle weakness, and those affected by Parkinson's disease whose voluntary limb movement may have been disrupted by the disease.
The future of power mobility is yet to be written, but current research is quickly closing the gap between the wheelchair user's wishes and the device's ability to execute. Most importantly, though, as power wheelchairs become smarter the limits of disability are lowered, which, in turn, causes the gate to an improved quality of life to swing open wide. RM
Frank Long, MS, is Editorial Director of Rehab Management.
References
Baig E. A smile can move this motorized wheelchair. USA Today. Dec. 3, 2018. Talking Tech. Available at https://www.usatoday.com/story/tech/talkingtech/2018/12/03/ai-wheelchair-controlled-smile-other-facial-expressions/2183372002/. Accessed Feb. 24, 2020.
Rabhi Y, Mrabet M, Fnaiech F. Intelligent Control Wheelchair Using a New Visual Joystick. J Healthc Eng. 2018;2018:6083565. Published 2018 Feb 7. available at: https://www.doi.org/10.1155/2018/6083565