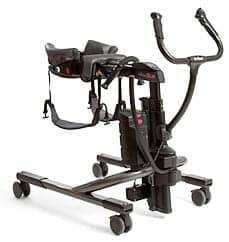 A new device designed to transfer, lift, and ambulate patients is available through Rifton Equipment, headquartered in Rifton, NY. The Rifton TRAM Transfer and Mobility device is a body weight support system engineered to eliminate lifting by caregivers and reduce back strain and workplace injury.
The company reports that the device can be used for seated transfers, sit-to-stand transfers, and supported ambulation.The product has a 350-pound weight capacity and battery drive that can deliver more than 70 lifts on a single charge, the company adds. The product also features an optional built-in scale to allow users to weigh clients while performing a routine transfer.
For more information, visit www.rifton.com.
[Source: Rifton Equipment]