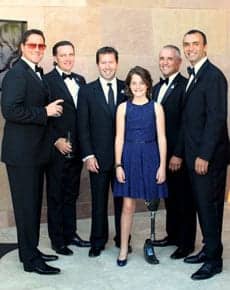 In a recent news release, the professional not-for-profit Philanthropy, Entrepreneurship, Environment, Relationships, Social (PEERS) Network announced that it hosted its fifth Annual Black Tie Gala, raising $335,000 for the Challenged Athletes Foundation (CAF). The gala was reportedly held at the private La Jolla Farms home of Steven and Lisa Altman.
Guiseppe Ciuffa, PEERS Network board member, event co-chair, articulated the organization's pride in hosting the event, noting, "The Challenged Athletes Foundation helps thousands of individuals each year, locally and around the world, to succeed in sports—and in life. It is an honor to do our part to support their mission."
The release reports that more than 430 attendees supported the formal event. The event also honored David Smotrich, MD, FACOG, founder of La Jolla IVF, and featured professional athletes and others such as Bill Walton, Tony Hawk, and John Carney. The money raised at the gala will provide funding for expensive adaptive equipment, training and competition expenses to overcome financial barriers often encountered by challenged athletes.
Virginia Tinley, executive director, Challenged Athletes Foundation, emphasizes the organization's appreciation in being selected by the PEERS Network as the benefitting charity of the event.
"As a charity started right here in San Diego that is now celebrating its twentieth anniversary, it is wonderful to see the local community come together to celebrate the challenged athletes we support," Tinley says.
Photo Credit: Challenged Athletes Foundation
Source: Challenged Athletes Foundation