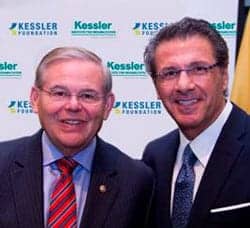 Kessler Foundation announces that Sen Robert Menendez (D, NJ), chairman of the Senate Foreign Relations Committee, recently met at its West Orange campus with leading disability advocates to discuss strategies to ratify the Convention on the Rights of Persons with Disabilities (CRPD).
According to the Foundation, more than 35 representatives from multiple state and national disability organizations attended the panel discussion to share their support of Menendez's efforts to gain votes for the treaty's ratification.
The Foundation notes that the CRPD is designed of offer a framework for the rights of individuals with disabilities worldwide, based upon the values of dignity, respect, independence, and reasonable accommodations. The CRPD is also based upon American constitutional values and guidelines appearing in the Americans with Disabilities Act.
Rodger DeRose, president, CEO, Kessler Foundation, highlights the importance of the treaty's ratification, noting that the Foundation has seen the contributions individuals with disabilities can make firsthand. "Through our rehabilitation research and our funding of disability employment initiatives, more people with disabilities are leading productive lives, participating more fully in their communities and the workplace. Shouldn't all people with disabilities enjoy the opportunities that most of us take for granted, no matter where they live?" DeRose says.
A news release from Kessler Foundation states that currently, 143 countries have signed the treaty. The US Senate failed to pass it in 2012. Menendez maintains in the release that the treaty's ratification would set an example for other countries and showcase US leadership in the rights of individuals with disabilities.
"Ratifying the Convention is also critical to ensuring that international travel is safe and accessible for the 58 million Americans with disabilities, including 5.8 million veterans," Menendez says. Additionally, Menendez says, the treaty may also offer a way to export accessible products throughout the world.
Former Rutgers football player Eric LeGrand also attended. LeGrand echoed Menendez's sentiment, emphasizing the concern of traveling for individuals with disabilities, adding, "When we don't have to focus on obstacles, like lack of wheelchair access, we can focus on the real issues."
The panelists, many of which were Kessler Foundation grantees, also asked questions during the event and shared ideas to bolster additional votes required for the treaty's ratification. The release notes that hearings on the CRPD are slated for November 5 and 12 in Washington DC.
Photo Caption: Senator Robert Menendez (D, NJ) and Rodger DeRose, president and chief executive officer of Kessler Foundation, joined the panel to discuss the importance of the Convention on the Rights of Persons with Disabilities.
Photo Credit: Kessler Foundation
Source: Kessler Foundation