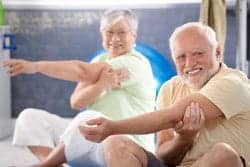 Research conducted by geriatricians at the University of Alabama at Birmingham (UAB) suggests that increased physical activity and exercise is key for healthy aging. The study appears in the Journal of the American Medical Association and recommends that primary care physicians take a more aggressive role in determining the mobility of their older adults.
Cynthia J. Brown, MD, MSPH, and co-author Kellie Flood, MD, UAB Division of Gerontology, Geriatrics and Palliative Care, wrote the clinical review, which assessed academic papers published between the years 1985 to 2012 addressing mobility issues in a general aging population. Brown notes that mobility limitations are often an early sign of impending functional decline in seniors.
If elevation in those limitations can be identified at an early stage, there may be opportunities for successful interventions designed to fend off functional decline and keep older adults living independently as long as possible, the authors say.
"The review confirmed that increased physical activity and exercise are extremely important for healthy aging," Brown adds, designating mobility as, "a sort of barometer for how well an older person ages."
In a recent university news release, both Brown and Flood also suggest that primary care physicians ask all older adults if, for health or physical reasons, is climbing up 10 steps or walking a quarter of a mile difficult, and because of underlying health or physical reasons, have they modified the way in which they try to accomplish these tasks? Modifications of tasks, such as climbing 10 steps, are red flags, Brown says.
She explains that a positive answer to either of the questions above should lead the primary care provider to identify the physical, social, or environmental components leading to the limitations, and take steps to address those limitations through physical therapy services and/or prescribing the appropriate ambulatory devices.
The release also notes that as a physical therapist for 10 years prior to becoming a physician, Brown recommends greater interaction between therapists and doctors. "With an increasing older population in the United States, it is incumbent on us to find ways to help older Americans continue to live well and independently."
[Source: UAB]