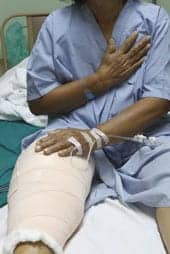 According to a recent news release, a Case Western Reserve University professor has received a 5-year grant in an effort to understand the reason why a reported 40,000 Americans must replace their knee and hip replacements annually. The release notes that Anna C. Samia, PhD, assistant professor, received a $600,000 National Science Foundation-CAREER grant to support the creation of new materials and equipment to test ultra-high molecular weight polyethylene used to make artificial joints.
The release notes that while ultra-high molecular weight polyethylene can be more difficult to scratch and may initially appear to be the ideal for joint replacement, it can be impacted by chemical oxidation, which degrades the plastic. To assess and identify the mechanisms involved in this process, Samia says researchers, "will mimic how the implants age in the body and test how the microstructure of the polymer affects its wear properties while being simultaneously subjected to chemical stress."
To accomplish this, Samia reports that she will imbed iron oxide-based magnetic nanoparticles in the polyethylene. Samia will be adjusting the nanoparticles' size, composition, and structure and form to develop strongly magnetic polymer composite materials. The team will in turn bathe the polyethylene in biological fluids, hydrogen peroxide and strong acids and devise techniques to capture images while the imbedded plastic is in the baths. Techniques will also be developed, Samia says, to mimic the mechanical stresses that yield from the push or pull of walking or running and to take images in this process to show when nanoparticles and plastic fragments are cut free. The images and analysis are also intended to exhibit under which conditions they are cut free and to track their migration.
Ultimately, researchers emphasize their goal centers on providing manufacturers targets that they can focus on in order to make the implant material more resistant to the internal environment of the human body.
Source: Case Western University