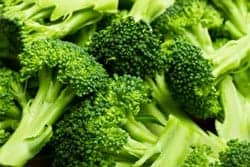 The University of East Anglia (UEA) reports that a compound found in broccoli may play a key role in preventing or slowing the process of osteoarthritis (OA). According to study results, sulforaphane slows down the destruction of cartilage in joints linked to OA. Mice fed a diet rich in the compound exhibited significantly less cartilage damage and OA than those that were not, researchers say.
The study, which also assessed human cartilage cells and cow cartilage tissue, indicates that sulforaphane blocks the enzymes that cause joint destruction by stopping a key molecule known to cause inflammation. Researchers note they sought to determine if the compound would be effective if it entered into joints in sufficient amounts.
"We have shown that this works in three laboratory models we have tried, in cartilage cells, tissues, and mice. We now want to show this works in humans. It would be very powerful if we could," Ian Clark, PhD, lead researcher, professor of musculoskeletal biology at UEA, explains.
Clark adds that the study's findings are important, as they suggest how diet might work in OA, "Once you know that you can look at other dietary compounds which could protect the joint and ultimately advise people what they should be eating for joint health."
During a small-scale trial, a UEA news release notes that half of the participants will be given "super broccoli," bred to be high in sulforaphane, to eat for 2 weeks prior to their operation. Upon completion of the procedure, researchers state they will investigate whether the compound has altered joint metabolism and if it can be detected in replaced joints.
Source: UEA